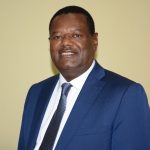 On behalf of the Board, I welcome you to the KMTC website.
The interactive website is part of our deliberate efforts to remain connected with the world, and especially with the College's stakeholders.
My Board is determined to make the College the leading institution in the training of medical personnel for Kenya's, as well as the world's, healthcare.
Excellent performance will be the epitome of the Board's resolve to ensure a continued improvement in the College's service delivery to its clients so that it can more resoundingly contribute to the social- economic growth of this country and the global populace.
This resolve will remain the Board's motivation in changing the direction taken by the College, towards pursuing excellence in training healthcare professionals.
If essential and high-quality health care is to be made equitable and accessible to Kenyans at an affordable cost in line with the Constitution, more Kenyans will have to be trained in health.
We must therefore consciously create more training opportunities at the College.
To do this, the Board is working closely with the National and County Governments to start new medical colleges. The College is also using many other approaches to open up training for Kenyans, including introduction of parallel programmes.
The Jubilee Government acknowledges that the College needs more support in its expansion programme and has promised to mobilize resources to expand health training of Kenyans at the College.
Once again, welcome to the website. I wish you an informed visit.
PROF. PHILIP KALOKI