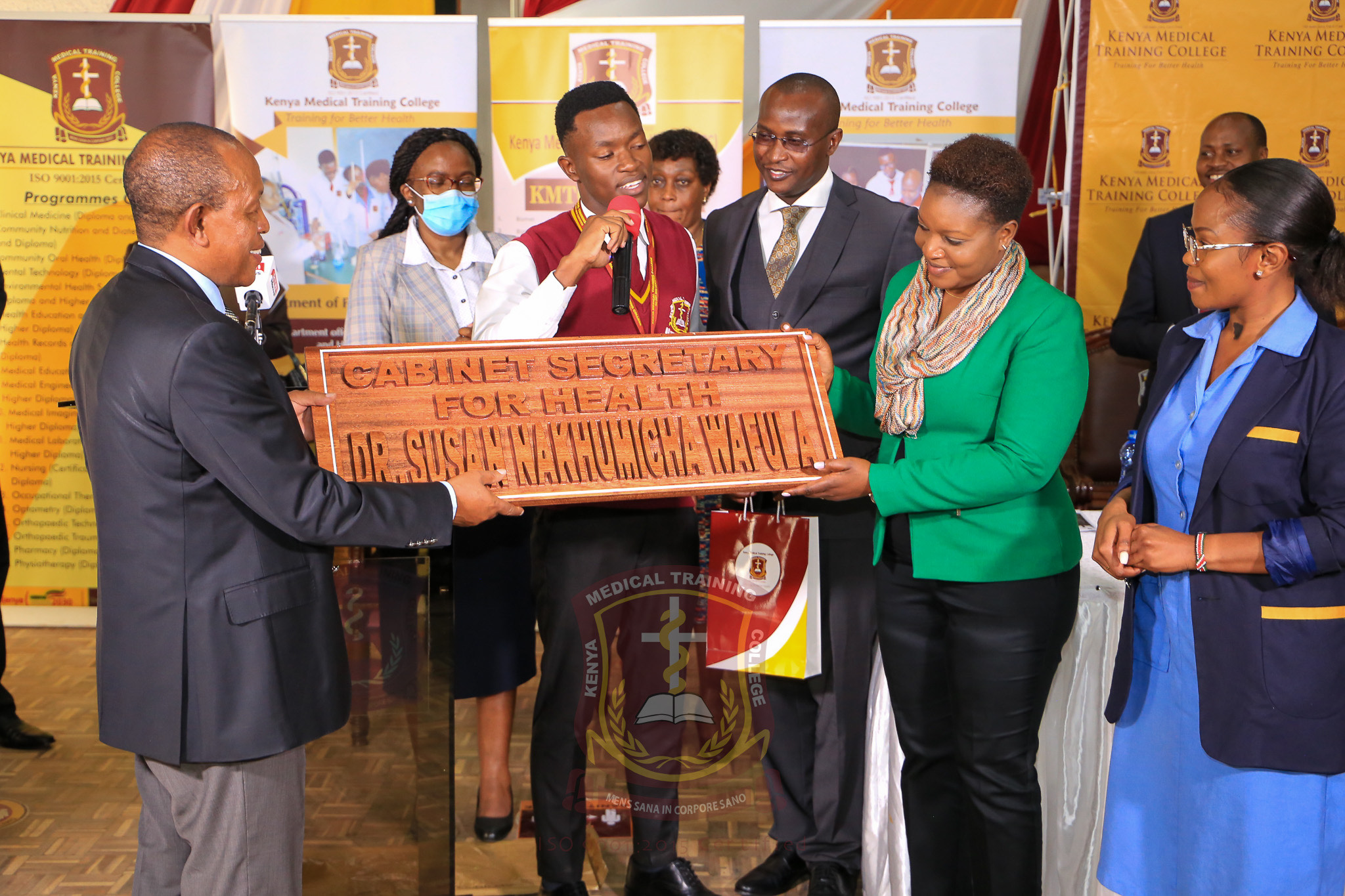 Health CS Lauds KMTC for Taking Training to another Level
Health Cabinet Secretary Ms. Susan Nakhumicha has commended the Kenya Medical Training College for its quality training terming it as next level.
"I am particularly impressed by what I have been able to witness at the skills laboratory and the simulation laboratory," she said, speaking on her official visit to the College today (November 14, 2022).
She challenged the Board and Management to expand roll out of the facilities to more KMTC Campuses to ensure students gain adequate practical experience before handling actual patients in the clinical placement sites.
Terming primary healthcare as the cornerstone to Universal Health Coverage, CS Wafula further lauded the College for being at the forefront in training this cadre of healthcare professionals. "I am pleased to note that the College offers, among others, a certificate course in Community Health Assistants," she said adding "this cadre will be instrumental in supporting my ministry ease the pressure on referral hospitals.
Referencing Miss Lukresia Robai, the KMTC Nursing who has taken the internet by storm through her dancing and passion for service, the CS encouraged KMTC students to emulate her example noting "her passion and attitude has given a new face to publicly trained healthcare professionals."
The CS assured the College of her unlimited support to ensure continued delivery of quality traineing.
Concurring with the CS's sentiment on the level of training at KMTC, Acting Health Director General Dr. Patrick Amoth noted that it is impossible to talk about healthcare in Kenya without mentioning KMTC. "Thanks to the number of health professionals the College releases every year, the KMTC's graduates account for about 80 percent of health manpower in our facilities," he said.
Representing KMTC Board Chairperson Amb. Zachary Muburi-Muita, Board Director Mr. Fredrick Wamwaki speaking on the demand for KMTC courses reported that the College receives more than 30,000 applications. This, he said, has advised the decision by the KMTC Board to expand the College's geographical spread in the country to deal with shortage of health workers in the country, and support the Government's Universal Health Coverage goals.
On the other hand, CEO Dr. Kelly Oluoch noted that CS Nakhumicha's ascension to the office of the Health Cabinet Secretary is proof that no matter where a student starts in life, they can rise to the highest level.
He observed that being an alumna of the College, the CS would bring a big change to the health sector and propel even further, the quality of training at the College.
The CS undertook her diploma in Pharmacy at KMTC, graduating in 2000 before proceeding for further studies.
Ends….