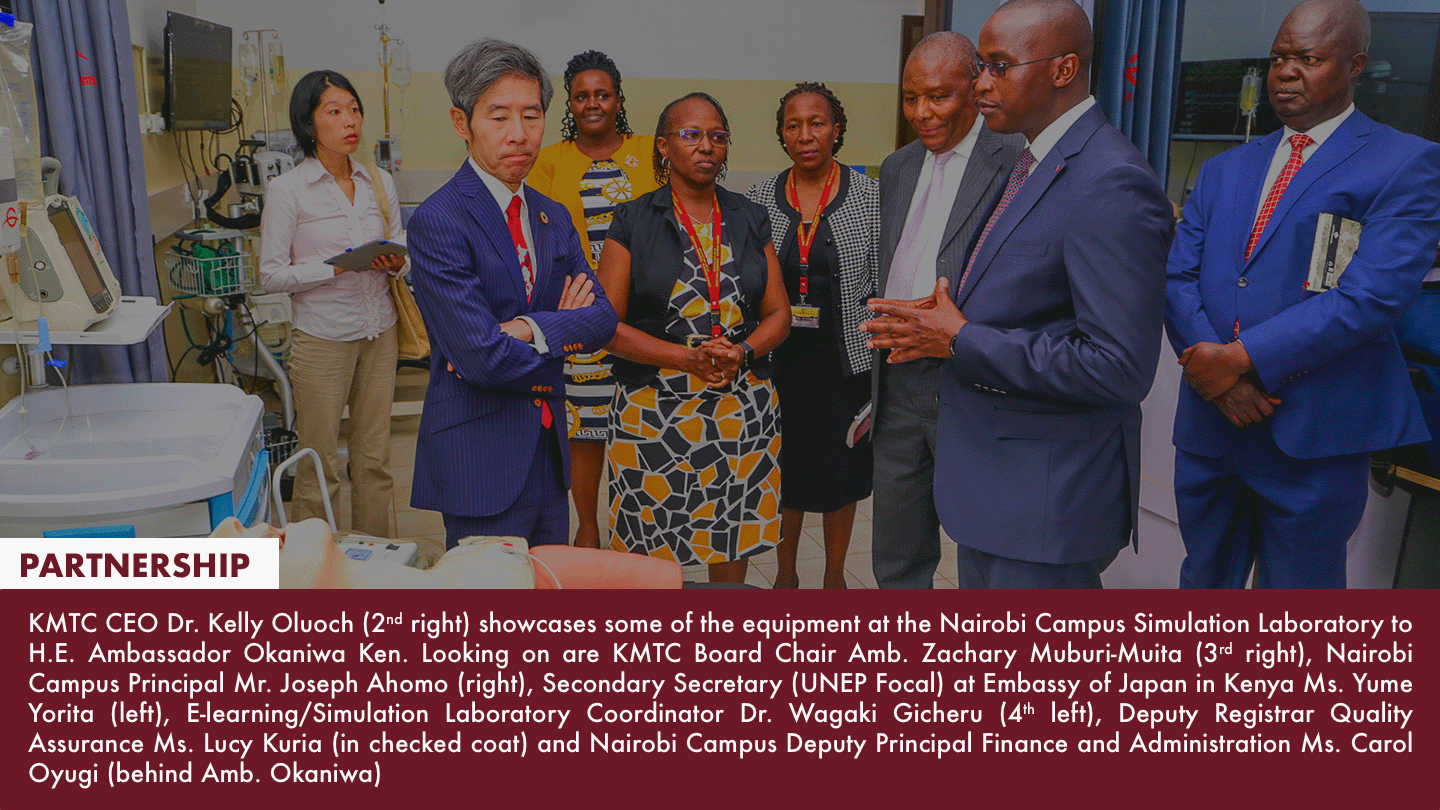 High Expectations as Japan Ambassador to Kenya Visits KMTC
KMTC Board Chairperson Amb. Zachary Muburi-Muita today hosted Japan's Ambassador to Kenya H.E. Ambassador Okaniwa Ken during his inaugural visit to the College.
"At KMTC we aspire to maintain international standards in line with our mandate to produce competent health workers fit for practice in the Kenyan as well as context," Amb. Muita said. "We hope this meeting will be the first, in a series of many, as we explore ways to solidify the strong ties between Kenya and Japan," he added.
The Chairperson reported that the College has engaged in deliberate partnerships with the County governments, aimed at synergizing the country's efforts in tackling health challenges in addition to actualizing the Universal Health Coverage agenda.
In his brief, KMTC CEO Dr. Kelly Oluoch appreciated the Japanese Government for their immense support to the College through the Japan International Cooperation Agency (JICA).
The CEO highlighted resources to enable the College regionalize the Simulation Laboratory training, technical support, capacity building and infusion of more skills in research and consultancy as key areas requiring support.
On his part, H.E. Ambassador Okaniwa indicated his Government's willingness to support Kenya's economic development and confirmed the existence of possibilities for future collaboration with the College.
He noted that good health of the citizen's is the basis of development in any country and reported that Japan has already extended funding to Kenya's Ministry of Health to support the country's health sector.
"As society evolves, KMTC must do likewise to address health challenges in the country and the region and to play its role in safeguarding the people's health," Amb. Okaniwa added.
KMTC's long history with JICA, dating back to 1995, has been instrumental in some of the most significant achievements of the College. Thanks to a total grant aid of 1,846,285,100 Japanese Yen disbursed between 1995 and 1998, the College was able to undertake the construction of facilities, rehabilitation of existing buildings, and provision of equipment and motor vehicles towards enhancing teaching and learning.
Further, the KMTC and JICA technical cooperation project between 1998 and 2003 geared towards improving the educational capacity of the College teaching staff, resulted in the improvement of the teaching and learning environment, coupled with technology transfer to the staff which contributed immensely to the present face of the College.
The Ambassador was accompanied by Ms. Yume Yorita, Second Secretary (UNEP focal) at Embassy of Japan in Kenya.