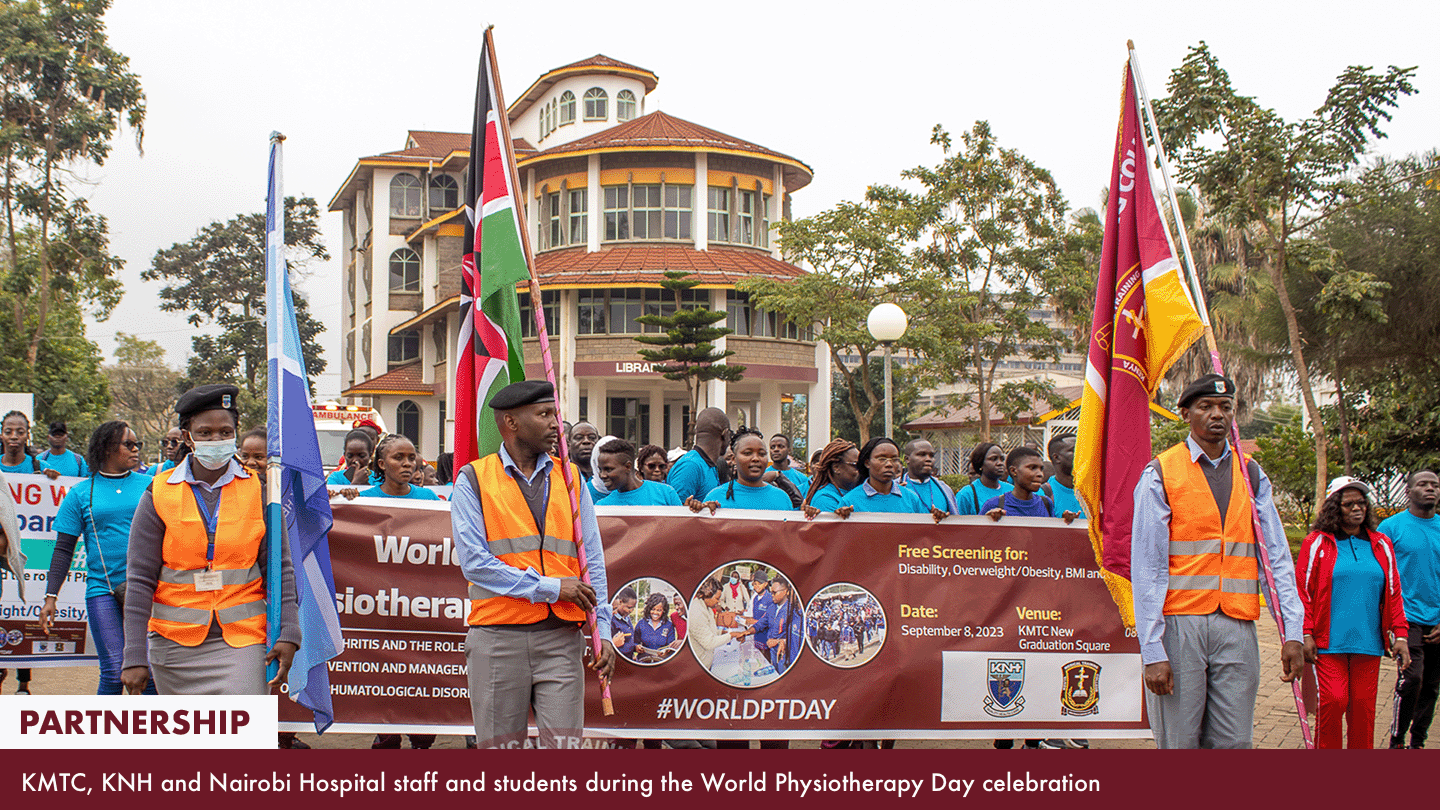 KMTC Join Hands in Celebrating World Physiotherapy Day
In a remarkable display of commitment to healthcare education and advocacy, the Kenya Medical Training College (KMTC) in collaboration with the Kenya Society of Physiotherapists and the Kenyatta National Hospital, marked this year's World Physiotherapy Day on September 8th, 2023, in an event held at the College's graduation square.
This event held under the theme "Arthritis with main focus on inflammatory arthritis" shed light on the pivotal role that physiotherapists play in enhancing and maintaining physical health, including some forms of inflammatory arthritis like rheumatoid arthritis and axial spondyloarthritis.
The them is a follow up of the theme for 2022, which focused on osteoarthritis.
Speaking while officially opening the event, the KMTC CEO Dr. Kelly Oluoch who was represented by the Deputy Director Academic Dr. Nyawira Mwangi, said Physiotherapists play a critical role in keeping people healthy and fit. "KMTC appreciates the significant role played by Physiotherapists in facilitating the well-being and recovery of patients including arthritis," he said.
He highlighted the significance of quality training, research, and technology as foundations in producing competent healthcare providers worldwide. "At KMTC, our primary goal is to provide sustainable training to our learners, and we are calling on you to recommend the essential programmes in the country to help combat the rising cases of physical injuries," Dr. Oluoch said.
The College is a major contributor to the wheels of healthcare service delivery in the country and contributes to the growth of the physiotherapy profession in the country and beyond.
Ministry of Health Acting Director of the Directorate of Medical Services Dr. Rebecca Kiptui, who represented the chief guest, the Acting Director-General for Health Dr. Patrick Amoth, underscored the urgent need for raising awareness about the role of physiotherapists in promoting health. "Early identification and intervention have demonstrated that physiotherapists can significantly reduce disabilities," she further stated.
Over the last 96 years, KMTC has registered great successes in training and mentoring Physiotherapists on specialized courses. The training prepares highly skilled health practitioners while prioritizing patient care, research, promotive, preventive, rehabilitative, and palliative healthcare.
The President of the Kenya Society of Physiotherapists Mr. Henry Opondo, echoed the importance of physiotherapists not only in Kenya but also on a global scale. He noted that the council is vigilant in ensuring that technological advancement, professional conduct, and practices are upheld for better and effective service delivery.
The College joined hands with various partners to offer a free medical camp to the public, participate in health awareness walk, to promote awareness about the critical contribution physiotherapists are making to the optimal performance of the health care system.
World Physiotherapy Day is observed on the 8th of September, annually.