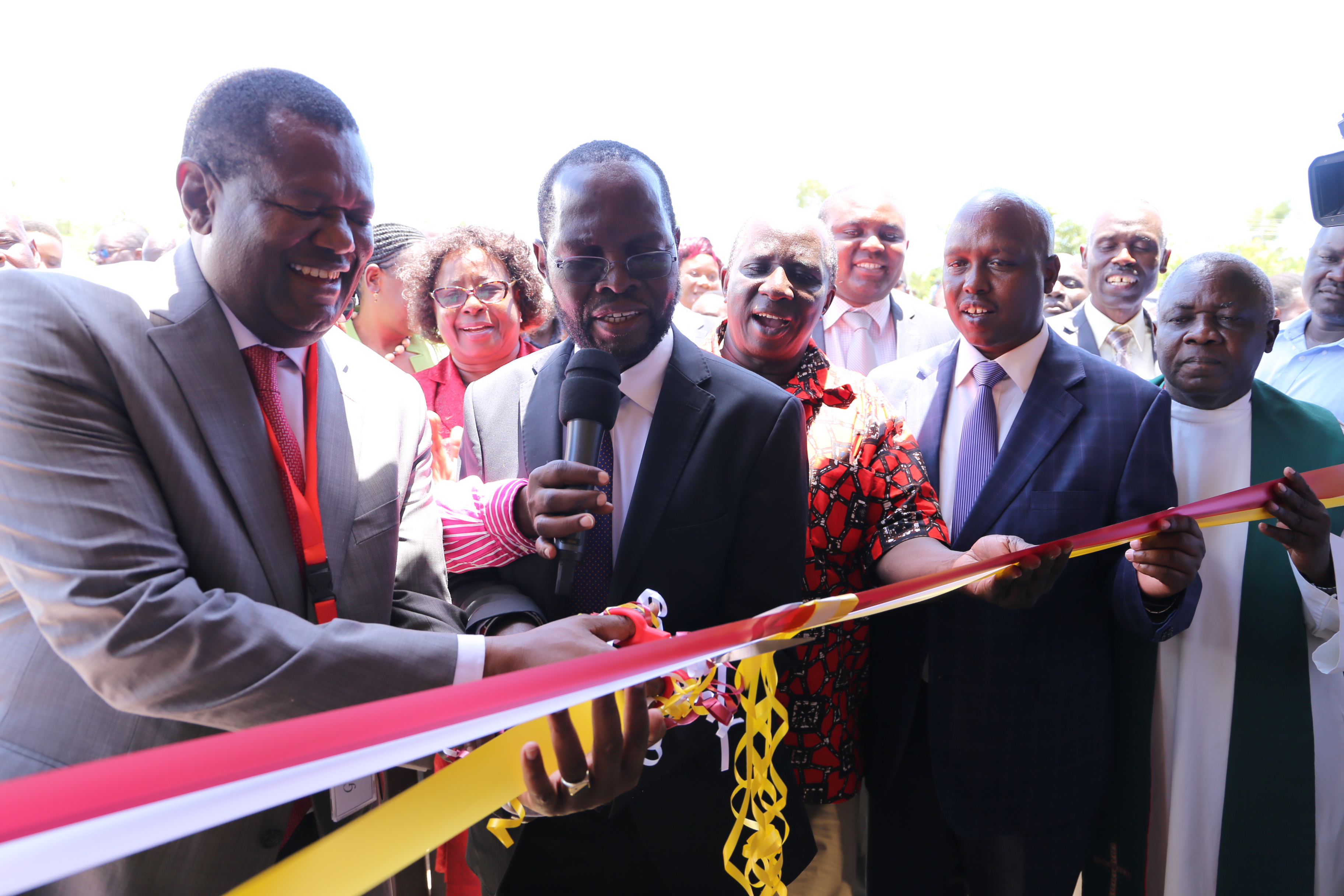 KMTC Kombewa receives bus as four new classrooms are officially opened
KMTC Kombewa has today commissioned a brand new bus valued at Kshs 6.4 million in addition to four new classrooms built at a cost of Kshs 7.2 million.
KMTC Board Chairman Prof. Philip Kaloki presided over the ceremony that was attended by Kisumu County Governor Prof. Anyang' Nyong'o, Seme Member of Parliament Dr. James Nyikal, Board Directors Mr. Mithamo Muchiri, Dr. Mary Nandili, Ms. Ruth Okowa, Mr. Fredrick Wamwaki and CEO Prof. Michael Kiptoo among other Kisumu County officials.
Chairman Prof. Kaloki thanked area MP Dr. Nyikal for being a staunch supporter of the Campus. He noted that so far the Seme National Government -Constituency Development Fund has allocated about Kshs 28 million for the construction of new buildings and renovation of existing ones, equipping of the laboratories and purchase of furniture among others.
"Kombewa Campus will mount four new programmes as part of the College's endeavour to produce competent health workers in line with the health needs of Kenyans," Prof. Kaloki said.
He reported that the Campus would get an additional bus and double cabin pickup to further enhance teaching, learning and service to the people.
Governor Nyong'o noted that KMTC Kombewa, located in Kisumu County, is key in the supply and training of health workers to meet the Human Resource for Health requirements in the County which is one of the four pilot Counties for implementation of Universal Health Coverage.
He undertook to work closely with the KMTC Board to see the Campus develop further.
Dr. Nyikal thanked the KMTC Board for consenting to the request to have a Campus in the area and for being instrumental in its growth. He noted that the Campus would in turn support growth of the Kombewa Sub-County Hospital which would translate into better services for the people of Seme and its environs.
Kisumu County Executive Committee Member for Health Prof. Judith Atyang lauded the efforts of the KMTC Board and Dr. Nyikal for getting Kombewa Campus to where it is. She urged the students to use the facilities available to them well in preparation for their future careers.
The new bus is to ease transport of students to Clinical areas as they serve the community while the commissioned classrooms will provide capacity for expansion.
Others present during the event were KMTC Principals Anthony Radol (Kombewa), Gladys Motende (Rachuonyo), David Okach (Siaya), James Koskei (Kabarnet), Eric C'oloo (Rera) and David Yator (Iten), staff and students of Kombewa Campus and area residents.