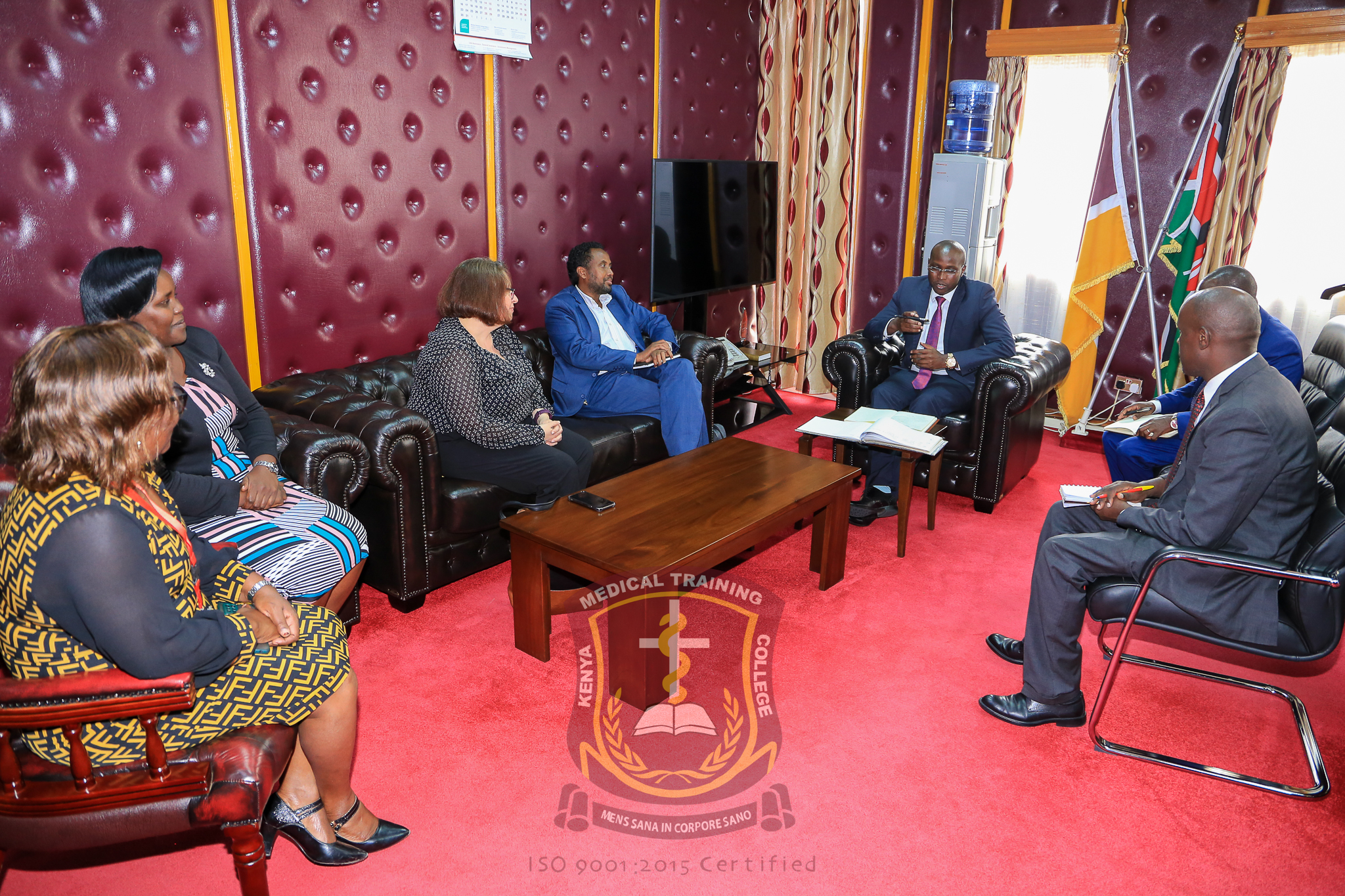 KMTC Partners with University of British Columbia in Tackling the Mental Health Crisis
In its ongoing efforts to collaborate with international organizations to enhance training, the Kenya Medical Training College (KMTC) has partnered with University of British Columbia (UBC) and has hosted a groundbreaking joint lecture focused on mental health care.
The event held at the KMTC School of Nursing in Nairobi ran from 2nd to 5th May, 2023, with the aim of shedding light on the importance of addressing mental health issues and the urgent need for improved identification as well as access to treatment worldwide.
"In line with our motto of 'Training for Better Health' we are cognizant that better healthcare must include mental health," KMTC CEO Dr. Kelly Oluoch said during the official opening held on 2nd, May 2023. "The College currently makes a significant contribution towards attaining mental health and well-being through quality training that includes several training programmes at pre-service and in-service levels, with a focus on developing competencies in mental health and psychiatry" Dr. Oluoch added.
He further revealed that KMTC's forthcoming Strategic Plan for 2023-2028 will prioritize interventions for the mental health of the population, aiming to make a significant impact in this crucial area.
One of the highlights of the event was the growing partnership between KMTC and the University of British Columbia, which is rapidly evolving into a robust collaborative venture in the field of mental health and beyond. KMTC takes great pride in the fact that the University of British Columbia recognizes its role in healthcare training for both the local and global market. Professor Mohammed Ibrahim, an alumnus of KMTC, is spearheading this groundbreaking partnership.
"We are honored to partner with KMTC in addressing critical healthcare challenges, particularly in the area of mental health," Prof. Ibrahim said. "By combining our expertise and resources, we can make significant strides in improving the well-being of individuals and communities," he further remarked.
The joint lecture between KMTC and the University of British Columbia marks a significant milestone in the global pursuit of better mental healthcare. With ambitious plans and impactful partnerships, KMTC is poised to lead the charge in addressing mental health challenges in Kenya and beyond, making a lasting difference in the lives of countless individuals.
Participants in the public lecture include KMTC students from Mathari, Nairobi, and Karuri Campuses undertaking mental health specialized courses in Nursing, Clinical Medicine, and Public Health departments, faculty, staff, and other invited guests.
On the sidelines and in another momentous development, KMTC celebrated a new partnership with the Giant Twiga Group, an organization dedicated to raising awareness and providing education in the fight against drugs. The group recently donated 144 banners featuring anti-alcohol messages, which will be distributed across KMTC Campuses. This initiative is part of a broader effort to address drug abuse and mental health concerns among students.
"We are excited to collaborate with KMTC and contribute to their mission of promoting mental health and well-being. Our aim is to create awareness about the dangers of alcohol abuse and its impact on mental health, ultimately fostering a healthier environment for students," stated Giant Twiga Group's Mr. Mukesh Desai who was accompanied by Mr. Keval Jatakiya of Lord Mahavir Swami.
For KMTC, partnerships and collaborations play a crucial role in advancing health training and fostering the mission of producing competent healthcare professionals. By leveraging collective strengths and resources, the College continues to ensure the production of competent and skilled healthcare professionals who can address the evolving healthcare needs of the country and make a positive impact on the health and well-being of the population.
Ends…