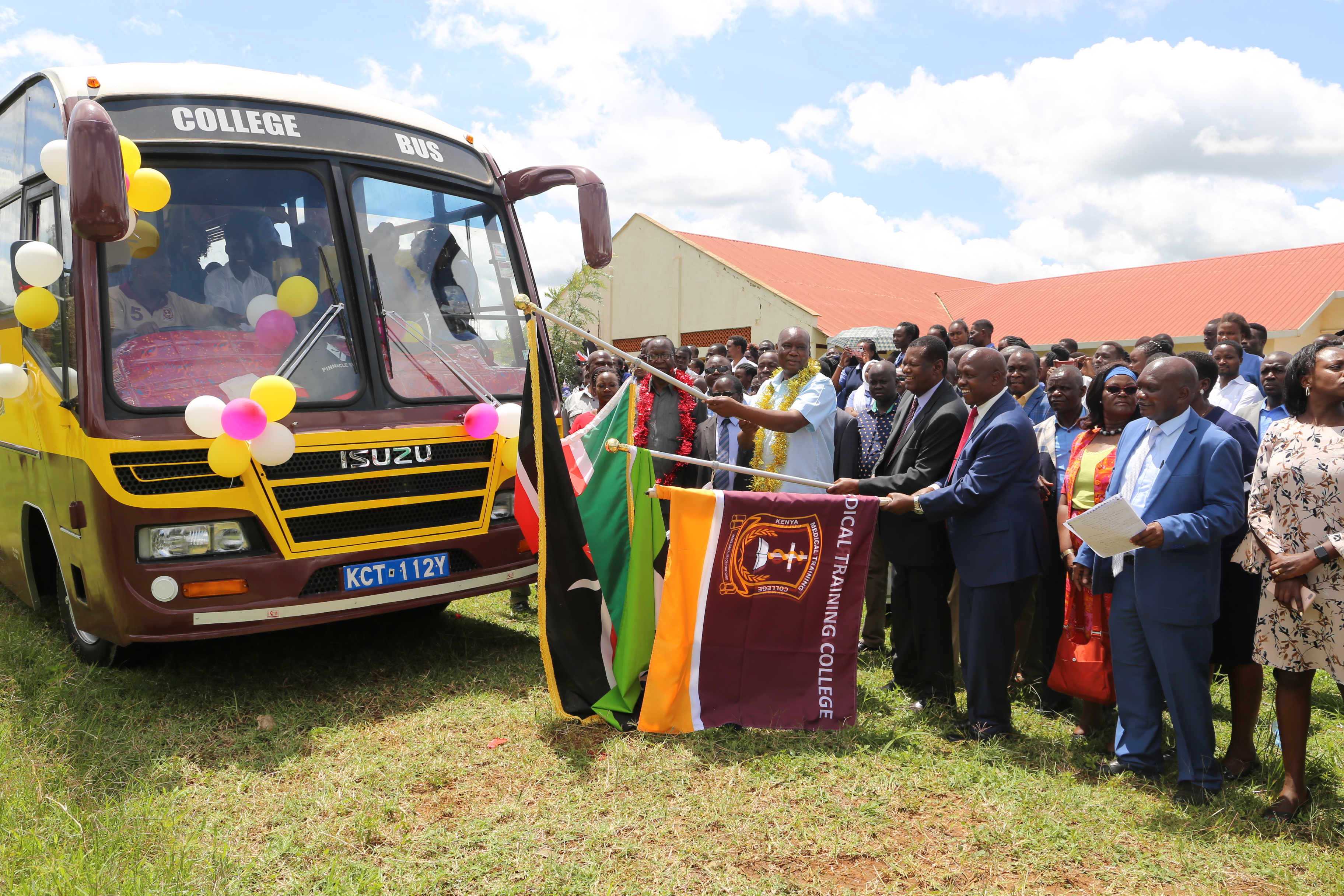 New bus commissioned as area leaders pledge support for expansion of KMTC Busia
A brand new bus for KMTC Busia was officially commissioned today amid cheers and dance from students and staff.
Governor Sospeter Ojaamong who was the chief guest during an event held at KMTC Busia to hand over the 52 seater bus to the Campus, commended the College Board for having the welfare of the students at heart. "Your presence here today and delivery of this bus is a big show of commitment to the wellbeing of these students and the people of Busia" he said.
Plans to expand the Campus received a major boost from the Governor after he pledged to give more than 20 acres of land to the College. Additional lecturer rooms would also be constructed by Matayos Member of Parliament Hon. Geoffrey Odanga in addition to supporting needy students through bursaries.
After graduation, the Governor said, the County would offer internship opportunities to the students before absorbing them into the payroll to offer medical services, as they already understand the terrain and health needs of the residents. "We shall sign a Memorandum of Understanding with the KMTC Board of Directors to actualize this," the Governor said.
KMTC Board Chairman Prof. Philip Kaloki said transport is an important aspect for students and staff to ensure they reach clinical training sites and other extra-curricular activities trips on time. He noted that the Board had put in place measures including enhancing transport system, to ensure to ensure the College delivers on its mandate.
The Chairman hailed Governor Ojaamong for his immeasurable support in establishment of Busia Campus and investing Kshs 100 million for its development. He said "The College will equip Busia Campus with additional infrastructure and provide necessary capacity for expansion and training of medical personnel."
Deputy Governor and acting County Executive Committee Member (CECM) for Health Moses Mulomi said the County Government was in the process of opening more health facilities thereby creating employment for competent health practitioners. He added that the County was renovating and modernizing the Busia County Referral Hospital. This, he said would enhance training for KMTC students.
KMTC CEO Prof. Michael Kiptoo said the College would remain steadfast in its commitment to support provision of health services in the County. "KMTC is ready to support the County meet the health needs by customizing and mounting courses in line with this" he said.
KMTC Board Directors Mr. Mithamo Muchiri, Dr. Emily Koech and Dr. Mary Nandili echoed the sentiments of the Chairman and CEO and promised to support growth of Busia Campus and ensure student grievances are addressed to provide them with a smooth learning environment.
Others present during the event included CECM Finance Ms. Faustine Baraza, Chief Officer Health and Sanitation Dr. Isaac Omeri and Director Medical Services Dr. Jane Rose Ambuchi.