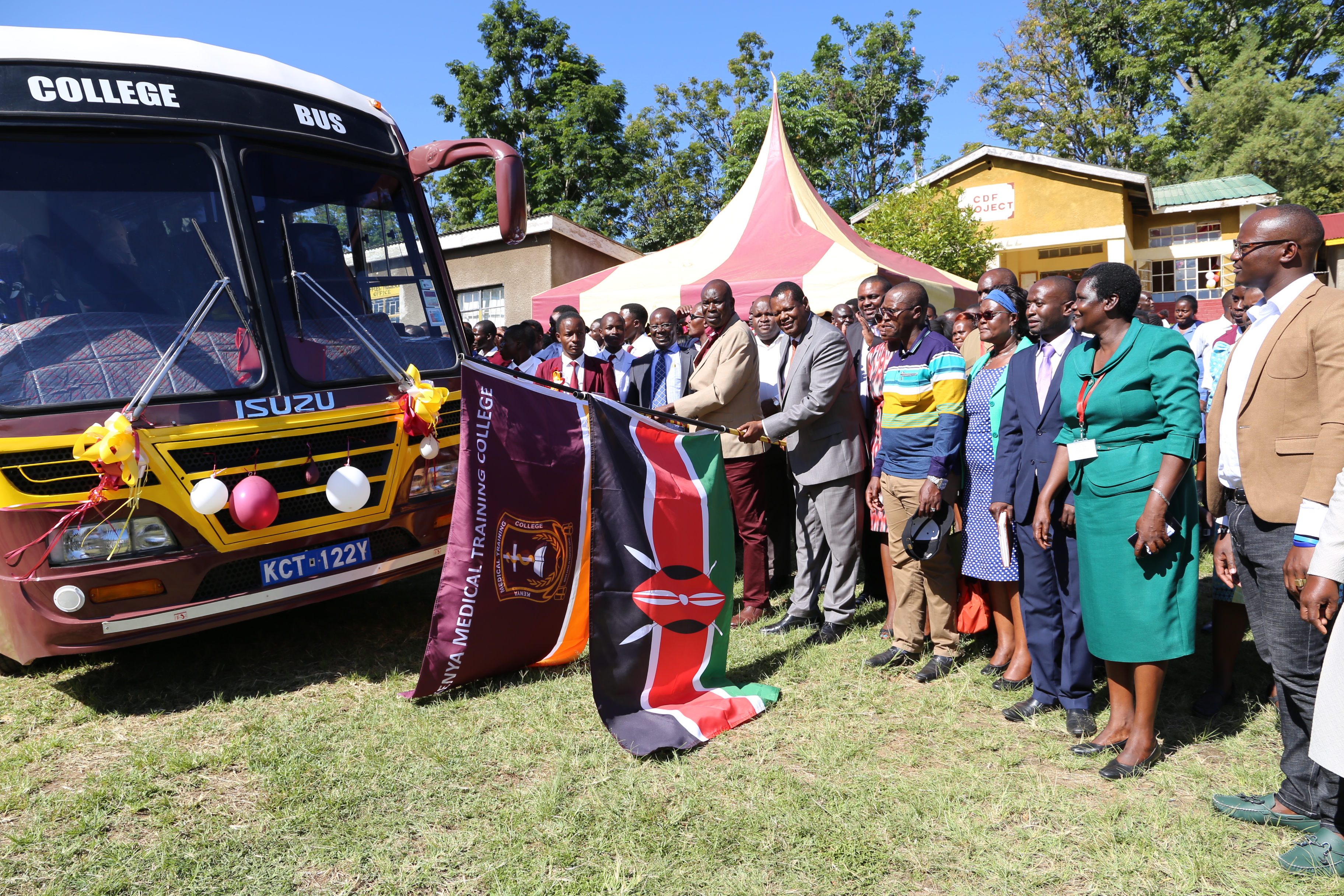 Yet another Campus earmarked for development as new bus is delivered
It was pomp and color at KMTC Webuye as staff and students received a new 52 seater bus purchased at a cost of Kshs 6.4 million.
Board Chairman Prof. Philip Kaloki accompanied by Board Directors Mr. Mithamo Muchiri, Dr. Emily Koech and Dr. Mary Nandili officially handed over the bus during a ceremony held at the Webuye Campus grounds.
Bungoma Deputy Governor Prof. Charles Ngome, hailed the KMTC Board for the transformative expansion programme that has enabled more qualified Kenyans access health training opportunities. "The County Government will continue supporting this Campus to enable it grow into a topnotch institution of training for health care professionals," Prof. Ngome said.
Prof. Kaloki said KMTC would remain steadfast in its endeavor to support the government, achieve its promise of delivering quality health care at an affordable cost to all, by availing the requisite human resource for health with the right skills mix.
"Training adequate health workers for the County is part of our mandate and we are determined to ensure we do this," the Chairman said adding "We shall mount courses at the Campus in line with the health needs of the people."
Board Director Mr. Mithamo Muchiri, said the Board will continue ensuring students have a conducive learning environment. This, he said, would ensure that they leave the College as qualified health professionals. On her part, Board Director Dr. Emily Koech, commended the students for their excellent performance and urged them continue working hard in their studies.
Ministry of Health representative in the Board Dr. Mary Nandili encouraged the students to pursue higher education after their qualification from the College. "Work hard and continue to do your best in your studies and we will support and nurture your talents," she said.
Administrative Services Manager Mr. David Ondeng, representing the CEO, informed the students that the Board and Management take their learning very seriously and their presence at the Campus was proof of this. He prompted them to ensure they achieve what brought them to the College then go out and serve Kenyans.
Maraka Ward Member of County Assembly Mr. Ali Mutoka said he will support needy students in the Campus through bursary funds, to enable them train without interruption.
KMTC Webuye Alumni Association Chairman Mr. John Ndakuya challenged the students to use the resources available to them to succeed in their chosen professions.
Earlier in the day, the team had paid a courtesy call to the County Commissioner and were received by Deputy County Commissioner Mr. Michael Yator who termed the bus as "A big plus that would change the outlook of the Campus, enhance its visibility and ease movement of the students to their practical sites.