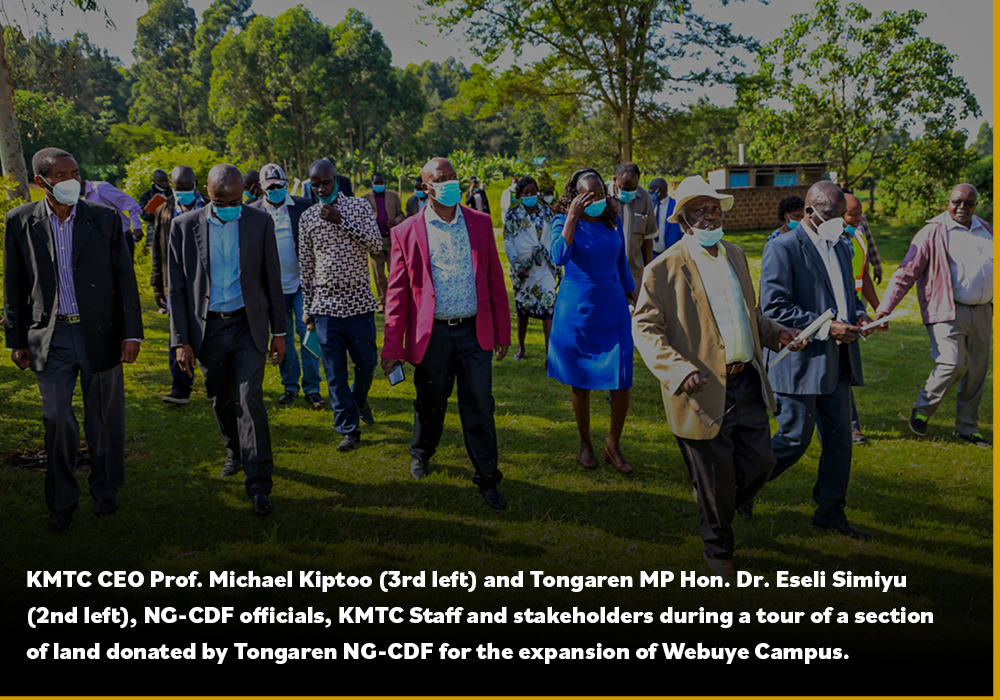 College plans expansion of Webuye Campus with Kshs 43 million donation
Kenya Medical Training College (KMTC) Webuye is setting to grow thanks to a land donation by Tongaren National Government Constituency Development Fund (NG-CDF).
The NG-CDF has donated 10 acres, about Kshs 43 million worth of land, and existing buildings.
The land will be developed into a full-fledged satellite Campus with amenities, tuition blocks, classrooms, skills laboratory, and ablution facilities.
Tongeren MP. Hon. Dr. Eseli Simiyu announced the donation during a visit to the area by KMTC CEO Prof. Michael Kiptoo Tuesday (June 29, 2021).
Hon. Eseli announced that the fund will inject an additional Kshs 15 million for renovation works and is hoping to have it ready in the coming months.
Prof. Kiptoo welcome the donation, terming it a good gesture and timely.
He thanked Hon. Eseli for partnering with the College, saying KMTC Bungoma has continued to benefit from a donation by Tongaren NG-CDF.
"The Campus has a modern computer laboratory, thanks to the fund. Our students have continued to benefit from bursary allocations," he reported.
Hon. Eseli said the project, when completed, will open up the region and create investment opportunities.
Webuye Campus was established in 2005 and is currently offering courses in Clinical Medicine (Diploma), Nursing (Diploma), Health Records and Information Technology (Certificate) and Foundation in Community Health (Short course).