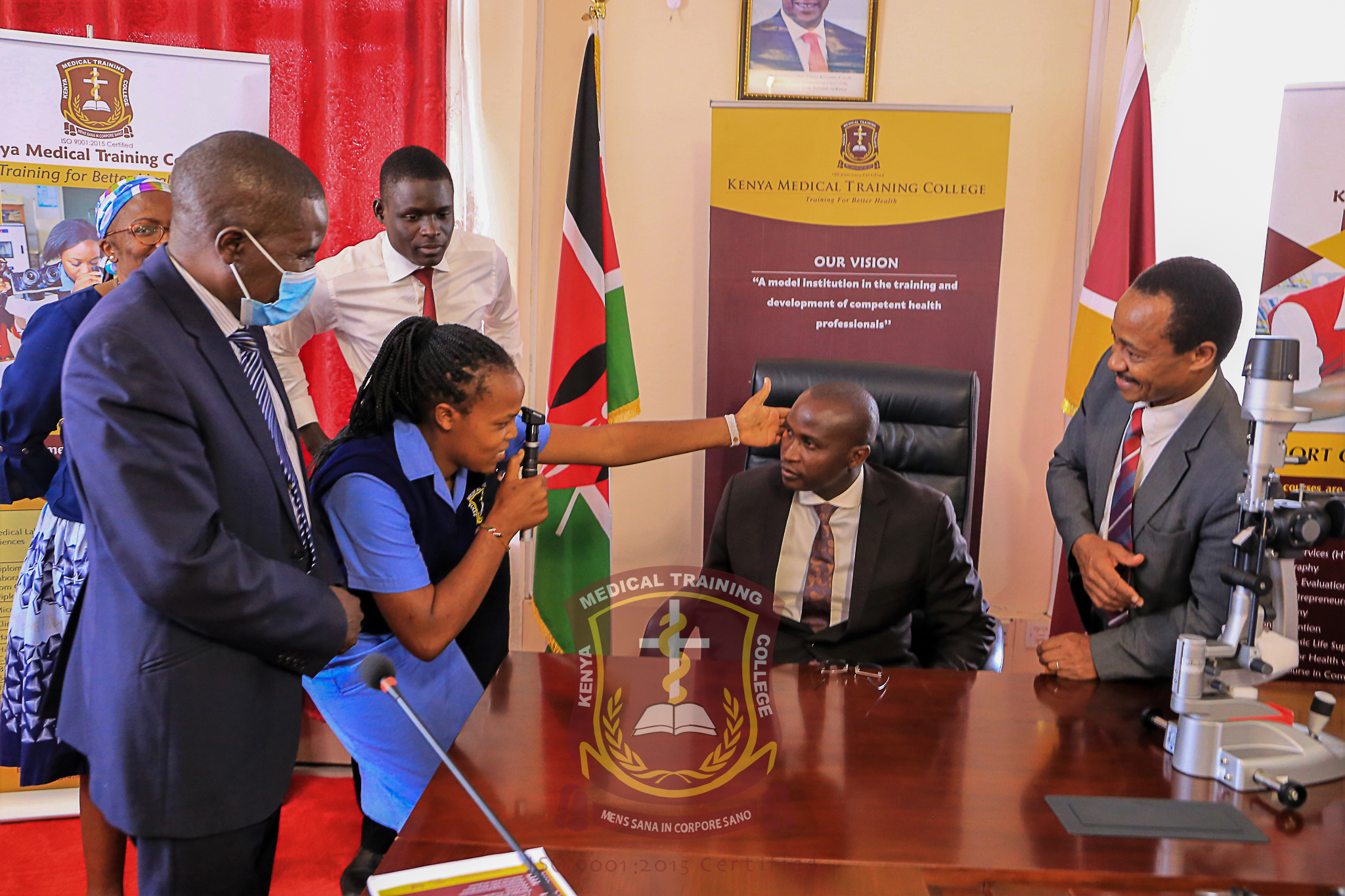 College Receives Training Equipment to Enhance Teaching and Learning
The Kenya Medical Training College (KMTC) optometry training programme is getting a boost, thanks to a donation from Harley's Limited.
The College Friday (March 24, 2022) received a slit lamp valued at Ksh 1 million in addition to a retinoscope and ophthalmoscope valued at Ksh 300, 000.
"Through this equipment, our students will be able to gain skills in eye examination and thus write a necessary prescription," Ag. Chief Executive Officer Dr. Kelly Oluoch said when he received the equipment.
Dr. Oluoch reported that the College will continue to forge strategic partnerships with like-minded partners to enhance teaching and learning.
Harley's Head of Ophthalmic Services Mr. David Obura noted that the long-standing partnership between the College and his organization has led to capacity building for students in the optometry department.
He reported that in addition to donating equipment, Harley's exposes the students to the latest and most modern ophthalmic equipment in the market.
"Further, through the partnership, KMTC students have benefited from training in basic maintenance and repair of ophthalmic equipment," he said.
Chief Ophthalmologist at the Ministry of Health Dr. Michael Gichangi hailed KMTC for stepping into filling the gap in the training of eye care health professionals to address vision impairment challenges.
The College mounted a Diploma in Optometry in 2006 with a class of 15 students.
Also in attendance included Kitale District Hospital Eye Unit Ophthalmologist Dr. Hillary Rono, Deputy Director Academics Dr. Nyawira Mwangi, Deputy Corporate Communications Manager Mr. Hezron Ochiel, Principal Nairobi Campus Mr. Joseph Ahomo, Head of Resource Mobilization Mr. Kamau Maina, Heads of Department Mr. Peter Kirigwi (Optometry), and Ms. Catherine Mwaura (Nursing).
…..Ends