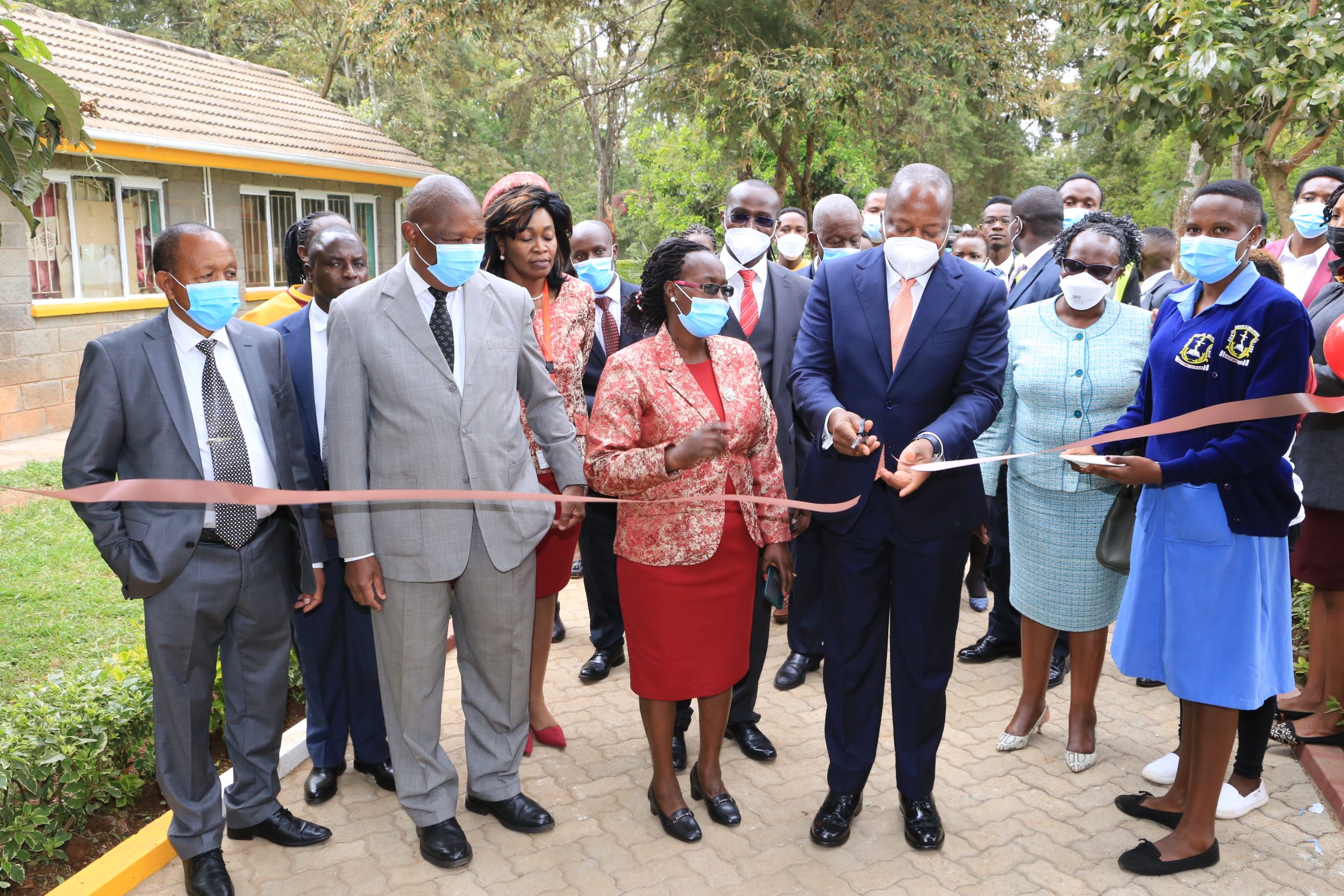 College urged to expand training for nutritionists to meet local and international market demands
Health Cabinet Secretary Sen. Mutahi Kagwe has urged the Kenya Medical Training College (KMTC) to expand training for Nutritionists and Dieticians to meet local and global market demands.
While acknowledging the important role played by nutritionists in fighting Covid-19 and other nutrition-related disease, Sen. Kagwe noted that the country is facing acute shortage of such specialists.
"Currently, the ratio of Nutritionists and Dieticians to patients stands at 1:100, 000 which is below the required World Health Organization (WHO) recommended numbers," he reported.
"There are great opportunities out there for health workers, including nutritionists. As a country, we can start thinking of exporting such workers once we first meet our local demands," he added.
The CS was speaking today (June 30, 2022) at the KMTC Karen Campus when he presided over the launch of the Higher Diploma in Renal Nutrition curriculum on the sidelines of the second alumni meeting, bringing together nutritionists from across the country.
Referring to the curriculum launch, Sen. Kagwe added that: "I note with pride that today's event is part of efforts to cement the strides made by the Government in its commitment to improve nutrition, and by extension, the health of Kenyans."
The alumni meeting provides an opportunity to take stock of the contribution of alumni members in improving nutrition and exhibiting best practices.
KMTC Board Chairperson Amb. Zachary Muburi-Muita reported that as part of the College's commitment to address Human Resource for Health gaps, KMTC is set to open its doors to Nutrition students from the East African region starting March 2023.
He further noted that the establishment of the Regional Centre of Excellence in training, Nutrition and Dietetics, a collaborative initiative between the Ministry of Health, KMTC and the Intergovernmental Authority on Development (IGAD), is especially critical at this time when the Government has prioritized food security and nutrition.
"Through the center, the College aims to strengthen the training of nutritionists who are able to serve as intermediaries between the community and the formal health system to manage diseases through proper diet."
On his part, KMTC CEO Dr. Kelly Oluoch reported that currently 1,675 students are undertaking Nutrition courses in the College.
"As we take stock of the achievements made in accelerating the UHC, distribution of human resources for health remains imperative," he said.
Dr. Oluoch, however, revealed that beginning September 2022, the College would mount the Higher National Diploma in Renal Nutrition in response to the rising cases of kidney diseases.
The event saw the Campus inaugurate a mother-child and wellness center which will be a demonstration center for students to undertake assessments of mothers and children as well as provide counseling on breastfeeding and complimentary feeding. The center will be a key practicum facility as the Campus is set to start offering the higher diplomas in Renal Nutrition and Paediatric Nutrition.
…..Ends