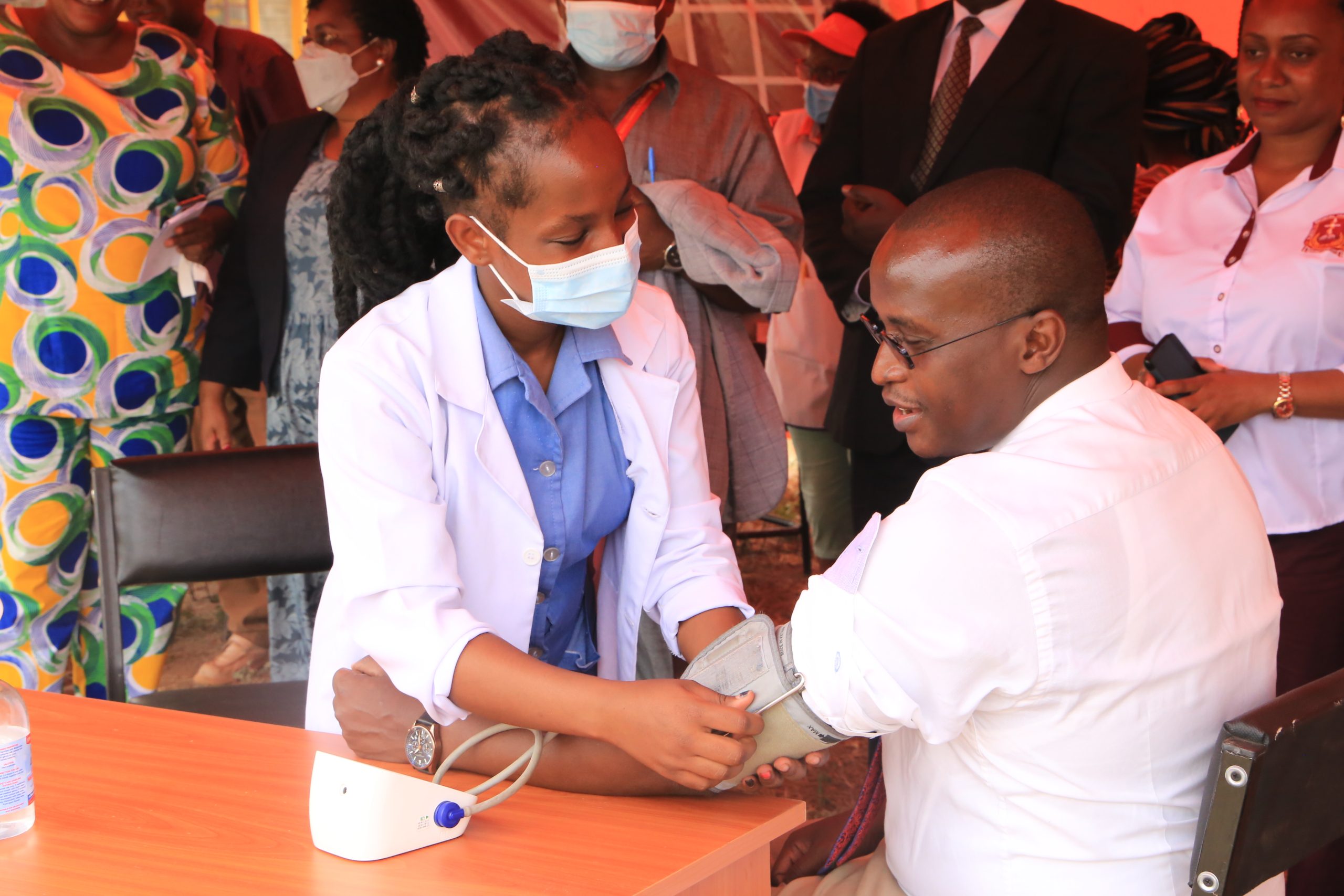 Huge turnout for a free medical camp organized by the College
More than 1, 500 people benefitted from a 3-day free medical camp organized by the Kenya Medical Training College (KMTC) in Mutomo, Kitui County, as part of its long-standing strategy of giving back to the community.
The main highlights of the camp were free medicines, free cervical, prostate cancer, and diabetic screening; blood pressure, eye and ear check-ups; COVID-19 vaccination, nutritional assessment, psycho-social support, and free doctor consultation.
A team of dedicated specialists from KMTC, Kitui South Sub-County Hospital, Catholic Mission Medical Board (CMMB), and Mutomo Mission Hospital, consisting of paediatricians, dermatologists, ophthalmologists, oncologists, gynaecologists, occupational therapists and nutritionists extended their selfless services to the residents.
The free medical camp was inaugurated on Wednesday (June 15, 2022) by the County Executive Committee Member (CECM) for Health Dr. Winnie Kitetu and KMTC CEO Dr. Kelly Oluoch.
Commenting on the health check-up, Dr. Kitetu termed the camp a timely gift for the county.
She noted that the county has in the recent past recorded rising cases of sickle cell anaemia, malnutrition, upper respiratory infections, malaria, diarrhoea, and amoeba, among others.
"We welcome a partnership with KMTC to help us tackle these diseases," she said.
She, however, urged the residents to take advantage of the training opportunities available in the College to empower their children and support the county in strengthening its healthcare systems.
KMTC CEO Dr. Kelly Oluoch assured that KMTC commits to continually improving the health care systems, especially in the marginalized regions.
He further reported that: "In pursuit of the same, we continue to expand our training programmes by partnering organizations like Clinton Health Access Initiative and JHPIEGO to introduce specialized programmes to ensure a continuous supply of competent and motivated health workers."
Dr. Oluoch revealed that the College continues to attach students to rural health facilities, a move aimed at reducing the burden of treatment emanating from late disease diagnosis.
The free medical camp, which started on Tuesday, June 14, 2022, officially ends today.
…..Ends.