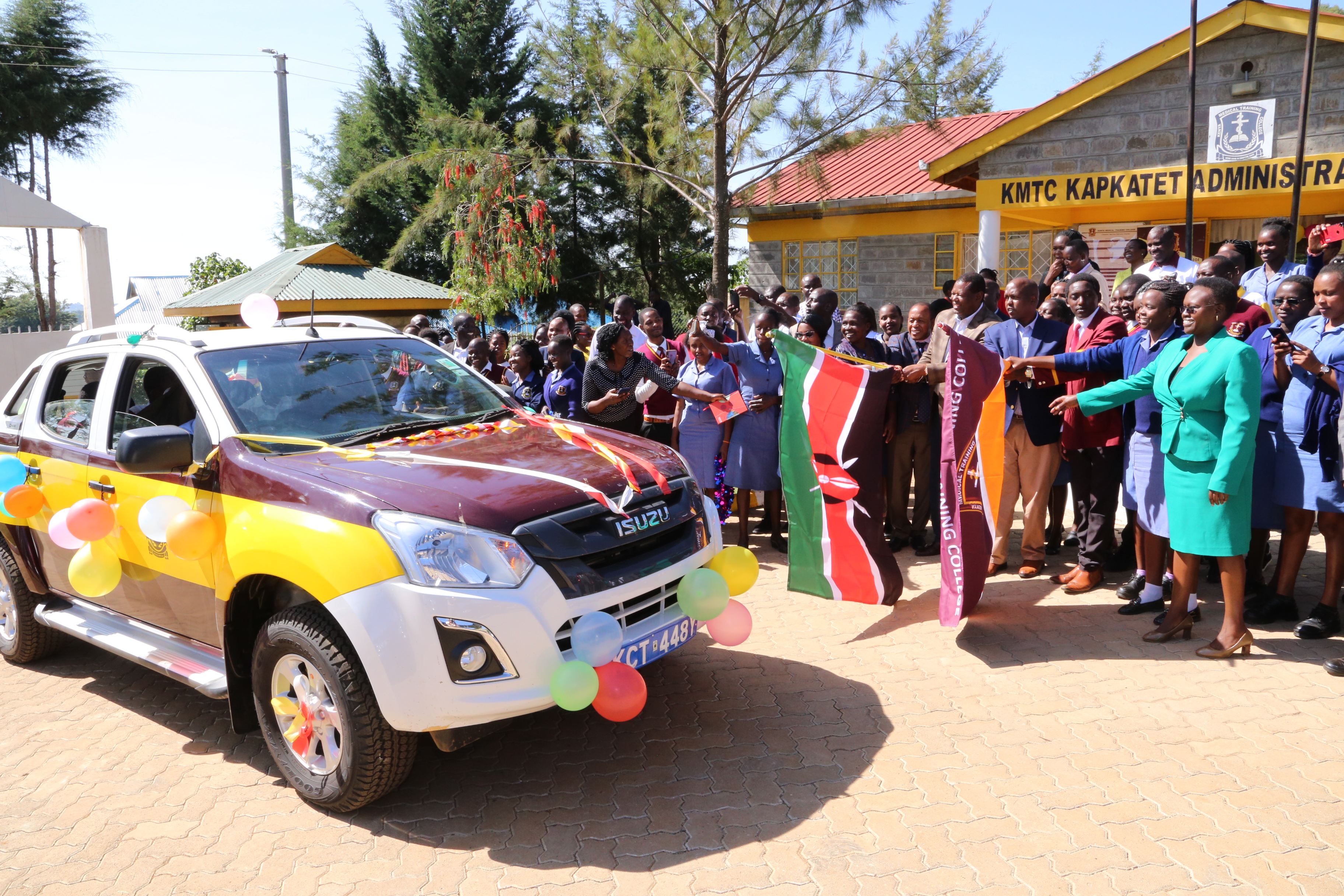 KMTC Board fulfills promise as Kapkatet Campus receives new vehicle
The KMTC Board officially commissioned a double cabin pick up for KMTC Kapkatet at the Campus on 21st February, 2020.
This is in fulfillment of the pledge by the Board, during a visit to the Campus last year, to ensure that each Campus has at least one bus and a double cabin utility vehicle to ease transport of staff and students as they train and serve Kenyans.
Board Chairman Prof. Philip Kaloki, EBS, assured the students that a brand new bus would be delivered within the next two months." The Board will also put up a new building housing the skillslab, a library and more classrooms," he added.
Prof. Kaloki said more lecturers would be sent to all Campuses in the coming months and libraries would remain open longer, from 7am to 10pm, to give students ample time to undertake individual studies and research, as some of the measures the Board is putting in place to safeguard the quality of graduates from the College.
The Chairman reaffirmed the Board's commitment to continual enhancement of academics in all Campuses. "It is as a result of KMTC's efforts in training, to bridge the human resources for health gaps, that the College was recognized as the largest producer of competent Clinical Officers in the continent by the Global Association of Clinical Officers and Physician Associates," he observed.
Board Director Mr. Frederick Wamwaki asked the students to use the platform offered by KMTC to acquire knowledge, wisdom and skills, and as a launching pad for their careers. This, he said, was the only way to ensure that Kenyans benefit from investing in them.
CEO Prof. Michael Kiptoo assured that Management would continue to implement the Board's Vision for the College to continually enhance the quality of training in support of the Government's Universal Health Coverage Agenda.
Present during the event were KMTC regional coordinator Mr. David Yator, Principals Mr. Abel Onchiri (Kapkatet), Dr. Jeremiah Ngomo (Kakamega), Ms. Lucy Chebungei (Webuye), Mr. Benson Munyoli (Eldoret), Mr. George Tibi (Sigowet) and staff and students of Kapkatet Campus.