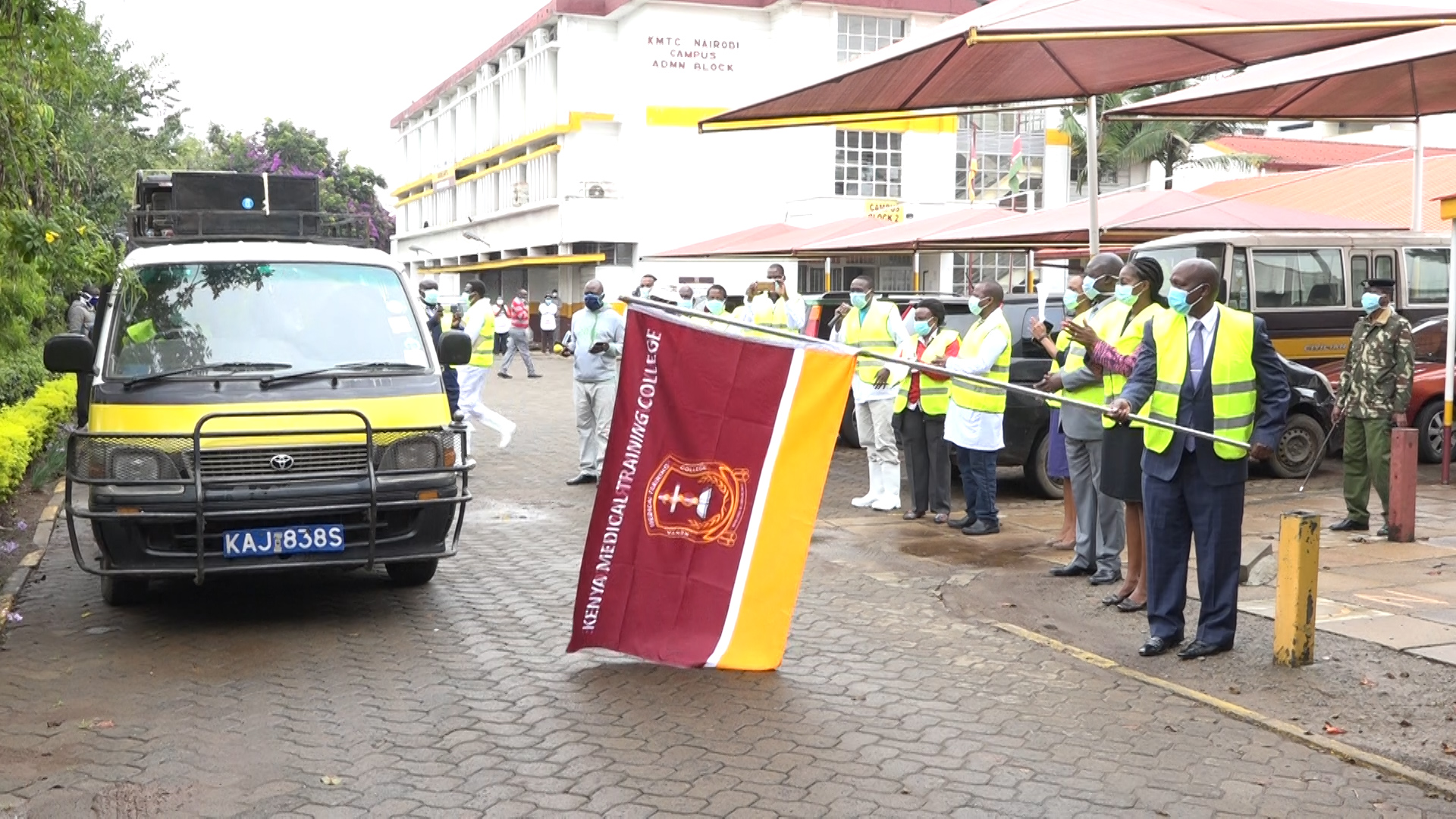 KMTC Health educators join efforts to reinforce COVID-19 prevention measures
KMTC Chief Executive Officer Prof. Michael Kiptoo has today flagged off teams from Nairobi Campus, to various markets and informal settlements in Nairobi County to conduct COVID-19 health-related education among residents.

In the next two weeks, the teams will visit 39 different sites including Kibera, Mathare, Korogocho, Mukuru as well as estates in Dandora, Kariobangi and Buruburu to teach the public how to prevent themselves against the deadly virus.
The teams will use a public address system to reinforce the Government's messages on hand washing, keeping social distance, avoiding crowded places and keeping respiratory hygiene.
Saying this is part of the College's Corporate Social Responsibility initiatives, the CEO reported that all the KMTC Campuses are already conducting health education in their communities.
With about 41,000 students taking various medical courses in the 71 Campuses spread in 43 out of the 47 Counties across the Country, the College is able to offer medical support in all regions.
Over its 93 years of existence, the College has capacity built health professionals who can deliver the World Health Organisation (WHO) and the Government's message on preventive measures against the Coronavirus, in a culturally acceptable manner, increasing the likelihood of communities acting upon this information.
In addition, the College is providing psychosocial support to those in quarantine in various Campuses across the country, said Corporation Secretary Dr. Miriam Muthoka.
All the 39 sites will be provided with hand washing facilities to ensure residents wash their hands regularly as a protection against the virus, which has no cure, added the CEO.
Nairobi Campus Principal Mr. Joseph Ahomo urged the teams to ensure they reach to as many residents as possible, to sensitize them on prevention measures against the disease.