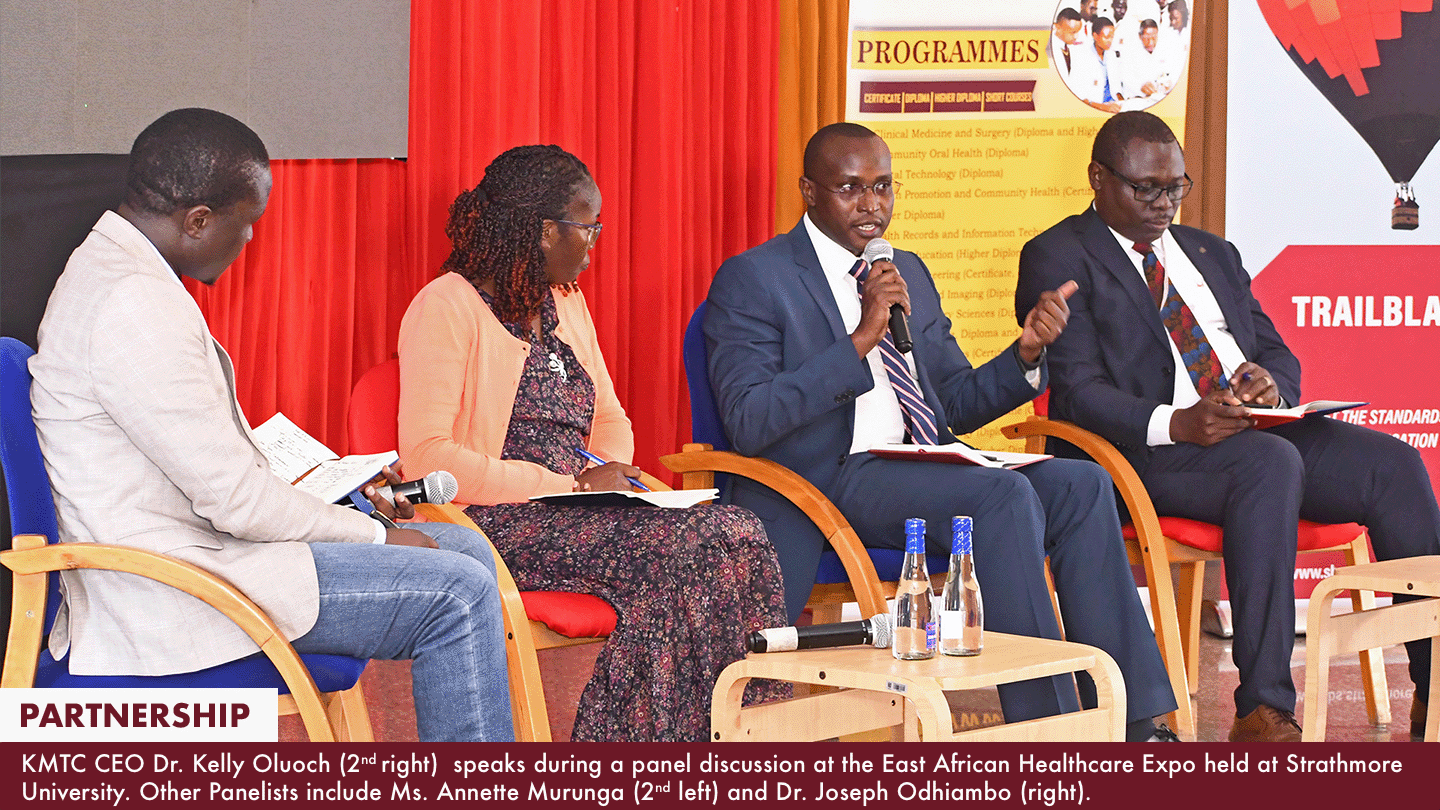 KMTC CEO Champions Education and Linkages for Better Health at the East African Healthcare Expo
The Kenya Medical Training College (KMTC) CEO Dr. Kelly Oluoch during a panel discussion on education, nutrition, and health at the recently concluded East African Healthcare Expo held at Strathmore University emphasized the importance of creating cross linkages between housing infrastructure, nutrition, and health.
He emphasized the crucial role of education in improving health indicators, empowering individuals to make informed choices, and facilitating access to better incomes and improved nutrition.
The expo, organized by Strathmore University Business School and the Kenya Healthcare Federation, from May 3rd – 5th, 2023 served as a platform to showcase East Africa's potential as a hub for health innovation and foster knowledge sharing among healthcare professionals.
"At KMTC, we offer various courses that are critical in making choices about housing, nutrition, and public health," Dr. Oluoch highlighted. "Our trainees receive comprehensive education, including proper designs of houses that enable access to clean water and proper waste disposal," he added.
The CEO underscored KMTC's commitment to community well-being through courses on nutrition, community health workers, and collaborations with AMREF in training caregivers as community health assistants. He further emphasized the importance of leveraging technology and adequate resources to equip community health practitioners with the necessary tools to enhance health and nutrition outcomes.
Elaborating on the Government's "bottoms-up economic transformative agenda," which prioritizes investment at the community level, Dr. Oluoch emphasized the significant cost-saving potential of investing in primary and preventive healthcare. "One shilling spent at the primary level saves nine shillings at the healthcare level," he asserted, underscoring the importance of redirecting resources towards proactive measures and empowering individuals with the knowledge to make informed health choices.
By investing in primary education and preventive measures, the government aims to create a strong foundation that will lead to improved health indicators and reduced healthcare costs in the long run, he added.
This recognition of the importance of primary-level investment further emphasizes Dr. Oluoch's passionate advocacy for education and its vital role in empowering individuals to make informed choices about housing, nutrition, and public health. His statements at the East African Healthcare Expo serve as a rallying call for increased attention and resources to be directed towards education, linkages, and preventive healthcare in Kenya and beyond.
Responding to a question about equity, Dr. Oluoch referred to Article 43 of the Kenyan Constitution, which guarantees access to quality healthcare for all. He noted the Commission for Revenue Allocation's efforts to balance revenues across counties, ensuring equitable access to resources.
KMTC's partnerships with counties in arid and semi-arid areas, as well as far-flung regions like Kwale, Lodwar, and Garissa, were highlighted as a means to tailor educational programs such as community health nursing to meet the unique needs of these communities.
The event was geared towards successfully positioning East Africa as a center for health innovation, fostering transformative developments in the region's healthcare sector. The CEO's passionate advocacy for education, linkages, and community empowerment left a lasting impact, inspiring attendees to strive for improved health outcomes through integrated approaches.
The CEO was joined in the panel by Strathmore Business School's Ms. Annette Murunga and Dr. Joseph Odhiambo.
He was accompanied to the event by Deputy Director Academics Dr. Nyawira Mwangi, Corporate Communications Manager Ms. Marcellah Onsomu, and Mr. Kelvin Oruko.
Ends…