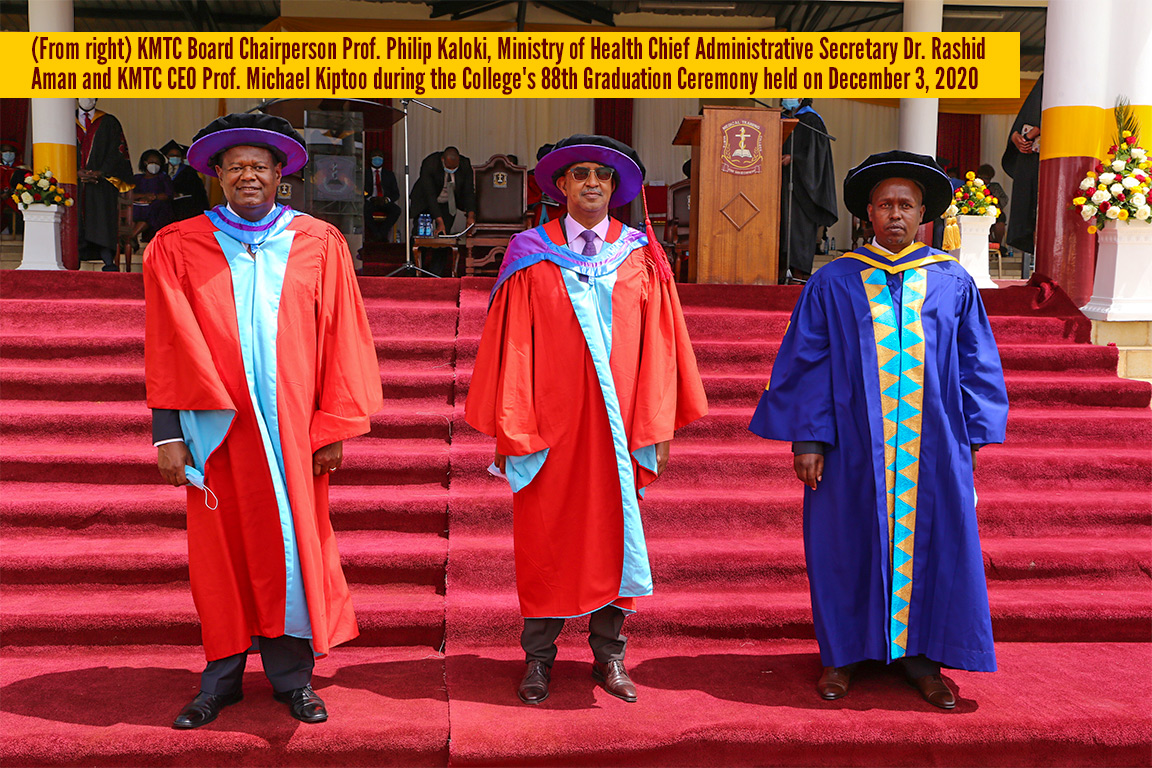 KMTC HOLDS 88TH ANNUAL GRADUATION CEREMONY
The government has reiterated its commitment to redoubling its efforts in training health care professionals to respond to global health challenges.
Speaking during the Kenya Medical Training College (KMTC) Graduation Ceremony held on December 3, 2020, at the KMTC Graduation Square in Nairobi, Health Chief Administrative Secretary Dr. Rashid Aman said the government remains committed to increasing the number of healthcare workers to meet the health demands and improve the health worker population ratio, especially in hard to reach areas.
"Being a strategic Government health training institution, KMTC plays an important role in propelling the country towards the attainment of specific health-related targets, including Universal Health Coverage and Sustainable Development Goal 3," he said.
"As you Train for Better Health, the dynamic nature of the health sector in this era of technological advancement, climatic change, emergence and re-emergence of new diseases, requires innovative approaches in health care management," he added.
KMTC contributes 85 percent of the local mid-level health workforce.
In this year's graduation 4,114 health workers awarded with various Certificates, Diplomas, and Higher Diplomas.
An additional 8,114 final year students whose learning was abruptly disrupted by the COVID-19 pandemic, however, missed out on graduation.
The aspirations of Sustainable Development Goal 3 and specifically Universal Health Coverage are largely dependent on a healthcare workforce that is strong, skilled, motivated, knowledgeable, and responsive to the ever-evolving needs of the health systems.
The KMTC Board Chairperson Prof. Philip Kaloki, EBS reported that the College continues to grow at an impressive rate. Five new Campuses: Mandera, Sigowet, Imenti, Taveta, and Mbooni were operationalized, bringing the total number of KMTC campuses to 71 spread across 43 out of the 47 Counties in the country.
"By this, we have created additional opportunities to train competent health professionals to bridge the human resource for health gaps in the country," he said.
Adding that: "KMTC remains a major exporter of healthcare workforce with our graduates working in far off countries in Europe, Australia, and the USA. This means we are directly contributing to national development through diaspora remittances and investments."
The government in recent past embarked on transforming health sector to provide affordable healthcare delivery services.
Besides the growth of Campuses across the country, the College has witnessed impressive growth in its programs.
"Even as we grow, the College remains committed to excellence, ISO standards as well as regulatory frameworks" said Prof. Kaloki.
KMTC CEO Prof. Michael Kiptoo said that the College, through the Ministry of Health and other partners has developed a training course for Community Health Volunteers, Community Health Assistants, Community Health Extension Workers, Basic and Advanced Life Support, and Emergency Medical Technicians.
He further added that "To reduce the burden of treatment emanating from late diagnosis, we continue to attach our students to rural health facilities, where we spend over 51,000 hours weekly on community diagnosis and treatment."
Since confirmation of the first COVID-19 case in the country, the College has been highly involved in supporting government efforts in managing the pandemic.
"KMTC is a member of the National Multi-Agency Team on COVID-19 tasked with the preparedness of quarantine and isolation facilities.
The College is also a member of the National Advisory Committee assisting in planning for COVID-19 containment interventions and strengthening of health systems for Universal Health Coverage in the Counties. Further, the College availed 44 of its Campuses with a bed capacity of 3,397, which hosted 5,077 clients in quarantine and isolation.