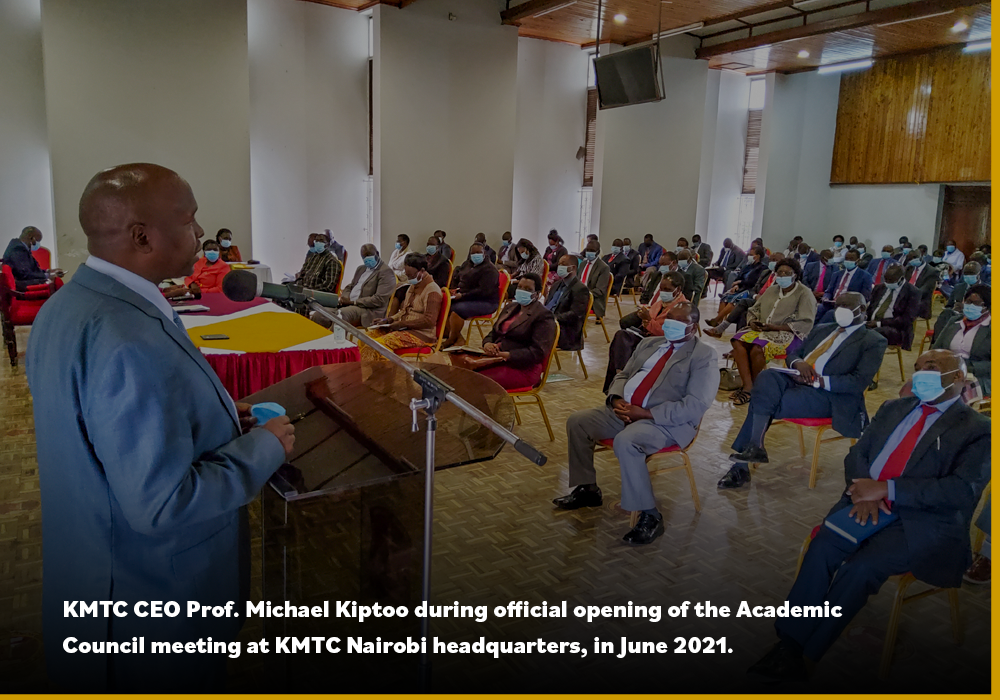 KMTC Holds Quarterly Academic Council Meeting
KMTC held a weeklong Academic Council meeting at the College headquarters in Nairobi to deliberate on several issues aimed at enhancing the quality of teaching and learning and review the College Examination Policy.
The week-long forum which kicked off on Monday June 21, 2021 came to an end on Friday June 25, 2021.
Speaking during the opening ceremony, KMTC CEO Prof. Michael Kiptoo observed that this is the first time the meeting was being held physically since the onset of COVID-19 in the country. He urged members to take advantage of the forum and discuss issues affecting the College to ensure students are getting the best possible quality of training, despite challenges arising from the pandemic.
The CEO noted that there was need to rationalize KMTC programmes to optimize use of available resources and ensure that they are aligned with the Country's health needs. In addition, he encouraged the Council to have candid discussions on management of existing Campuses with a view to identifying centers of excellence for some Courses.
"Even as we mount new courses, let us look at our strengths and if need be, expand horizontally to remain relevant in the fast-changing health sector," Prof. Kiptoo said.
Laying emphasis on the CEO's sentiments, Deputy Director Academics Dr. Nyawira Mwangi opined that there is need for the Council to find solutions for leaks and blockage in the academic pipeline to optimize resources available and avoid wastage.
Deputy Director (Finance, Planning and Administration) Dr. Kelly Oluoch emphasized on the need for continuous enhancement of training quality, "making KMTC the preferred Medical Training College and improving revenue collection by 50 percent despite the pandemic," he added. Dr. Kelly pointed out the College's robust ICT Department, Internet Connectivity, Enterprise Resource Planning (ERP) and E-learning portal as resources that will be utilized to digitize services offered by KMTC.
The Academic Council consists of Managers, Principals and Academic Heads of Departments. It is entrusted with the responsibility of safeguarding KMTC's place as the preferred institution of training for middle level health professionals, by continuously auditing processes and systems and proactively finding solutions for any foreseen and unforeseen challenges.