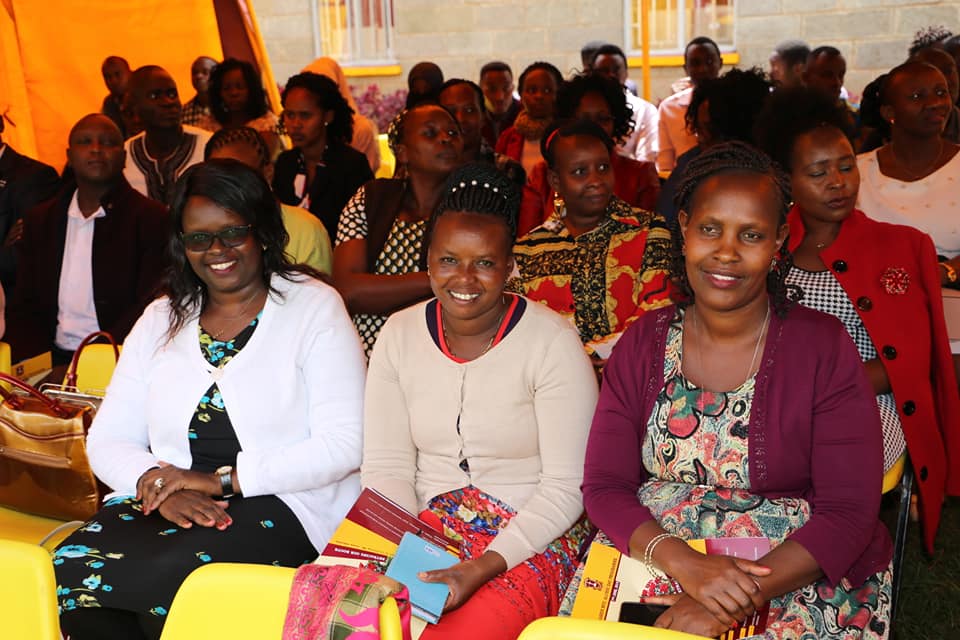 KMTC Karen campus holds 1st nutritionists Alumni meeting
KMTC Karen held its first alumni meeting at the Campus grounds today, Friday 7th June, 2019, an event that brought together former and current students.
AMREF International University Vice Chancellor Prof. Marion Mutugi was the Chief Guest during the ceremony attended by the KMTC Board Chairman Prof. Philip Kaloki, CEO Prof. Michael Kiptoo, senior managers from the College as well as other distinguished guests.
Prof. Mutugi termed the event as a concrete step towards cementing the place of KMTC Karen as a regional centre of excellence in the training of nutritionists. This, she said, was a stride towards supporting attainment of not just one but two out of the Government's Big 4 Agenda. These are Universal Health Coverage agenda through training of competent health manpower as well as food security and nutrition agenda by being at the forefront of advocating healthy eating, advising and giving recommendations on food nutrition among others.
"As the country aligns itself to respond to the demands of Universal Health Coverage, KMTC is well prepared to produce more health professionals to meet the need for more competent healthcare workers to bridge the human resource gaps in the health sector" Prof. Mutugi said.
On his part, Prof. Kaloki reiterated the Board's commitment to continue supporting initiatives that put KMTC on the global map as a powerhouse of training in health. Towards this, he said, the construction of a tuition complex at the Campus would commence next year to support its expansion and provide room for enrollment of more students.
Additionally, CEO Prof. Kiptoo affirmed that the Board and Management would work tirelessly to ensure that the dream of having KMTC Karen as a regional Centre of Excellence in nutrition is realized soon. He also said that the plans the Campus has put in place to establish a nutrition clinic, a breast milk bank and a fully-fledged wellness centre geared towards enhancing training and service to the community will be fully supported.
Karen Campus boasts of having trained some of the most senior people in the field of nutrition, among them National Aids Control Council Deputy Director Dr. Emily Chesire, Kenyatta National Hospital Chief Nutritionist Ms. Lorna Achola, Migori County Referral Hospital Nutritionist in charge Mr. Stephen Oyugi, Nandi County Deputy Director of Nutrition Ms. Angeline Korir, Laikipia County Nutrition Officer Ms. Phoebe Mwangangi, Nandi East Nutrition coordinator Ms. Salina Chepkoech among others.
Speaking on behalf of the alumni, Dr. Chesire hailed the meeting as a milestone for the Campus and expressed her joy at being part of the KMTC family. "Today we are retracing our steps to where it all began and we want to leave a legacy," she said. She lauded KMTC for providing a solid foundation for health practitioners and urged the alumni to support the College in enhancing its training.
KMTC Karen's rich history dates back to 1965 when the Danish Government established the training institution as a gift to the people of Kenya. It was agreed that the College could be named after Karen Blixen, as a highly regarded member of Danish society and this would also create strong cultural ties between Kenya and Denmark. As luck would have it, Karen Blixen's farm was for sale and by purchasing the farm and using the land to build a College for women, a continued connection would be established with Danish culture; Karen Blixen's interest and care for Kenyan women's circumstances would be honored; and a College for women would promote Kenya's interests to educate more females.
The Danish Government provided a further grant for establishing an Education Centre for young women on the property. Following several consultative meetings spearheaded by a consortium of organizations which included Food and Agriculture Organization (FAO), World Health Organization (WHO), United Nations Children's Fund (UNICEF) and the Kenya Government, a need to train a cadre of health professionals to deal with malnutrition was realized.
Enrolled nurses were found to be most suitable cadre for the in-service training since they had a background in anatomy as well as physiology and all they needed was nutrition training to be ready to serve. The nurses would undergo a four months training, which was later increased to six months, after which their designations would change to Nutrition Field Workers.
The Campus would later open its doors to the first class of Pre-service Community Nutrition Technicians in 1983 after mounting of a new nutrition programme- Certificate in Community Nutrition (CNT)- to replace the in-service one that was training Nutrition Field Workers.
To open an avenue for academic and professional advancement for Certificate holders, an up-grading programme was launched in 1997. The Certificate programme was phased out before being reintroduced in 2010 as a result of increasing demand for Certificate programmes. In 2000 Pre-service Diploma programme was launched bringing the total number of programmes currently offered at the Campus to three. Currently, the Campus has a total of 510 students undertaking training in Nutrition and Dietetics at Certificate, Pre-service Diploma and Up-grading Diploma levels.
Plans are underway to operationalize the Karen Alumni Association and re-connect with the larger KMTC family.