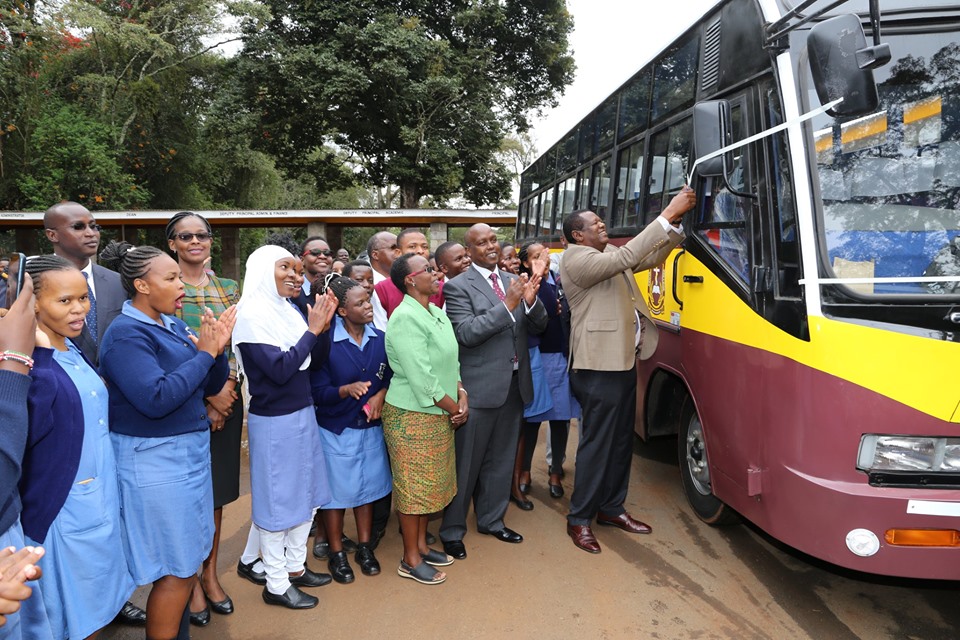 KMTC Karen campus receives a new bus
MTC Karen Campus new bus was officially commissioned today, amid pomp and color, by the Board Chairman Prof. Philip Kaloki. Transport being an important aspect in facilitation of learning, the new bus will ensure students and faculty are able to reach their academic and extra-curricular activities trips on time.
Speaking at the Campus during the event, Prof. Kaloki said the Board is committed and will continue supporting students in their training, by ensuring smooth running of operations in all KMTC Campuses,geared towards realization of President Uhuru Kenyatta's Universal Health Coverage agenda.
The Chairman was accompanied by Vice Chairman Eng. David Muthoga, Board Director Mr. Mithamo Muchiri and Mrs. Ruth Okowa. Ag. Deputy Director (Administration and Finance) Dr. Kelly Oluoch and Corporation Secretary Dr. Miriam Muthoka were also in attendance. The team was received at the Campus by the Principal, academic/non-academic staff and students.
The Campus' exemplary leadership demonstrated by the Principal, Dr. Peris Kibet and her team was acknowledged by the Board, and the tremendous transformation in performance noted. Karen Campus is set to establish a nutrition clinic, a breast milk bank and a fully-fledged gym and plans are underway to make the institution a Centre of Excellence in Nutrition. Discussions are also underway with IGAD to train nutritionists from member countries as well as enhance infrastructural development and accreditation to a Regional Centre of Excellence in Nutrition training.
Prof. Kaloki observed that the Campus has been growing in student population and as such the Board & Management would continue to invest in their training. He said the Board would consider giving the Campus another bus and a double cabin pick-up to support the growing student numbers. In addition, the Chairman said that the Board would construct walkways to enhance access, safety and mobility.
KMTC Karen campus was started in1966 as a Training Center for In-Service Enrolled Nurses in Nutrition. Currently, the Campus has a total of 510 students undertaking training in Nutrition and Dietetics at Certificate, Preservice Diploma and Up-grading Diploma levels.