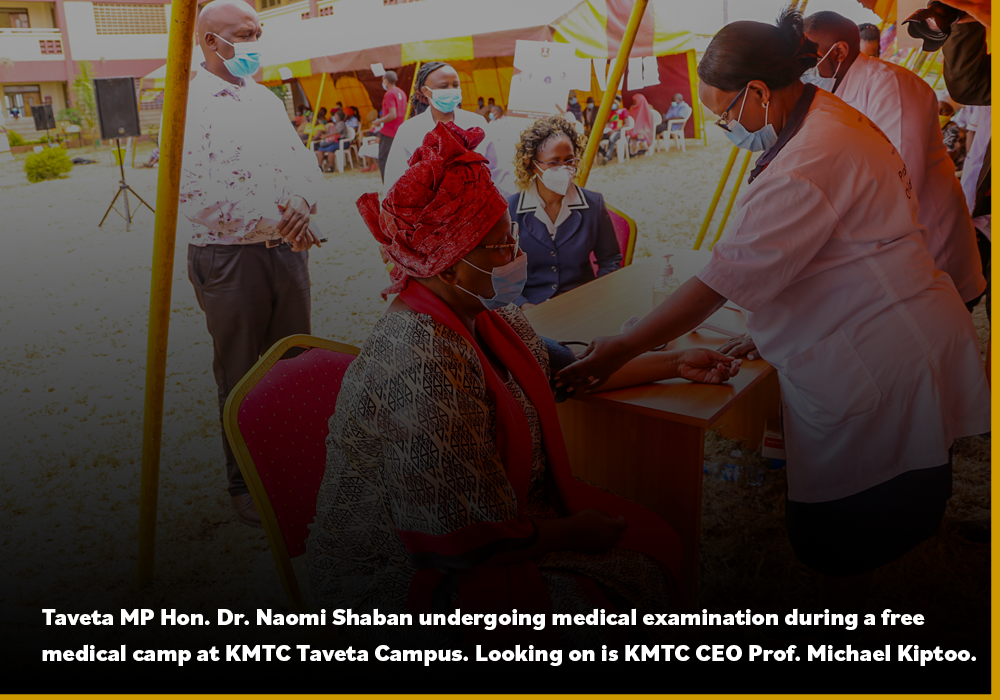 KMTC Launches a Three- Day Free Medical Camp in Taita Taveta County
Kenya Medical Training College (KMTC) launched a Free Medical Camp Tuesday (June 22, 2021) in Taveta Constituency, Taita Taveta County.
While officially opening the event, which will run for the next two days, Taita Taveta Governor Hon. Granton Samboja termed the medical camp a timely gift for the people of the area and the county.
He noted that the county has in the recent past recorded rising cases of sickle cell anaemia and hemophilia.
"We urge KMTC and the Kenya Medical Research Institute (KEMRI) to partner with the County to research effective preventive methods for these diseases," he said in a speech read on his behalf by County Chief Officer of Health Ms. Philomena Kirote.
The Governor also urged residents to take advantage of the training opportunities available in the two KMTC Campuses in the County, Taveta, and Voi, to empower their children, who will support the county in strengthening its healthcare systems.
KMTC CEO Prof. Michael Kiptoo assured that: "KMTC commits to continually complement Government effort of reducing the spread of preventable diseases such as HIV/AIDS, and malaria."
The CEO further reported that: "In pursuit of the same, we continue to expand our training programmes, review curricula, and introduce specialized programs to ensure a continuous supply of competent and motivated health workers that are fit for purpose and fit to practice."
Prof. Kiptoo revealed that the College continues to attach students to rural health facilities, a move aimed at reducing the burden of treatment emanating from late disease diagnosis.
Taveta Constituency MP Hon. Naomi Shaban encouraged residents to seek regular medical check-ups, stating that it can help spot potential health issues before they pose serious health risks.
She hailed the partnership between KMTC and her constituency, noting that it has brought healthcare services to the constituency.
KMTC Corporation Secretary and Chairperson of the College Corporate Social Responsibility (CSR) Committee Dr. Miriam Muthoka reported that the College is committed to giving back to communities through various CSR initiatives. "Through such medical camps, we raise health awareness among the community on how to deal with communicable and non-communicable diseases," she said.
The three-day event, which started on Tuesday, June 22, 2021, will see a range of medical services such as cervical and prostate cancer screening, COVID-19 testing, HIV/AIDS and malaria screening, nutritional assessment, oral, and psycho-social support offered.
The free medical camp is sponsored by Taita Taveta County Government, Kenya Medical Research Institute (KEMRI), and National Division for Malaria Prevention, Colgate Palmolive, and the Taveta Sub-County Hospital.