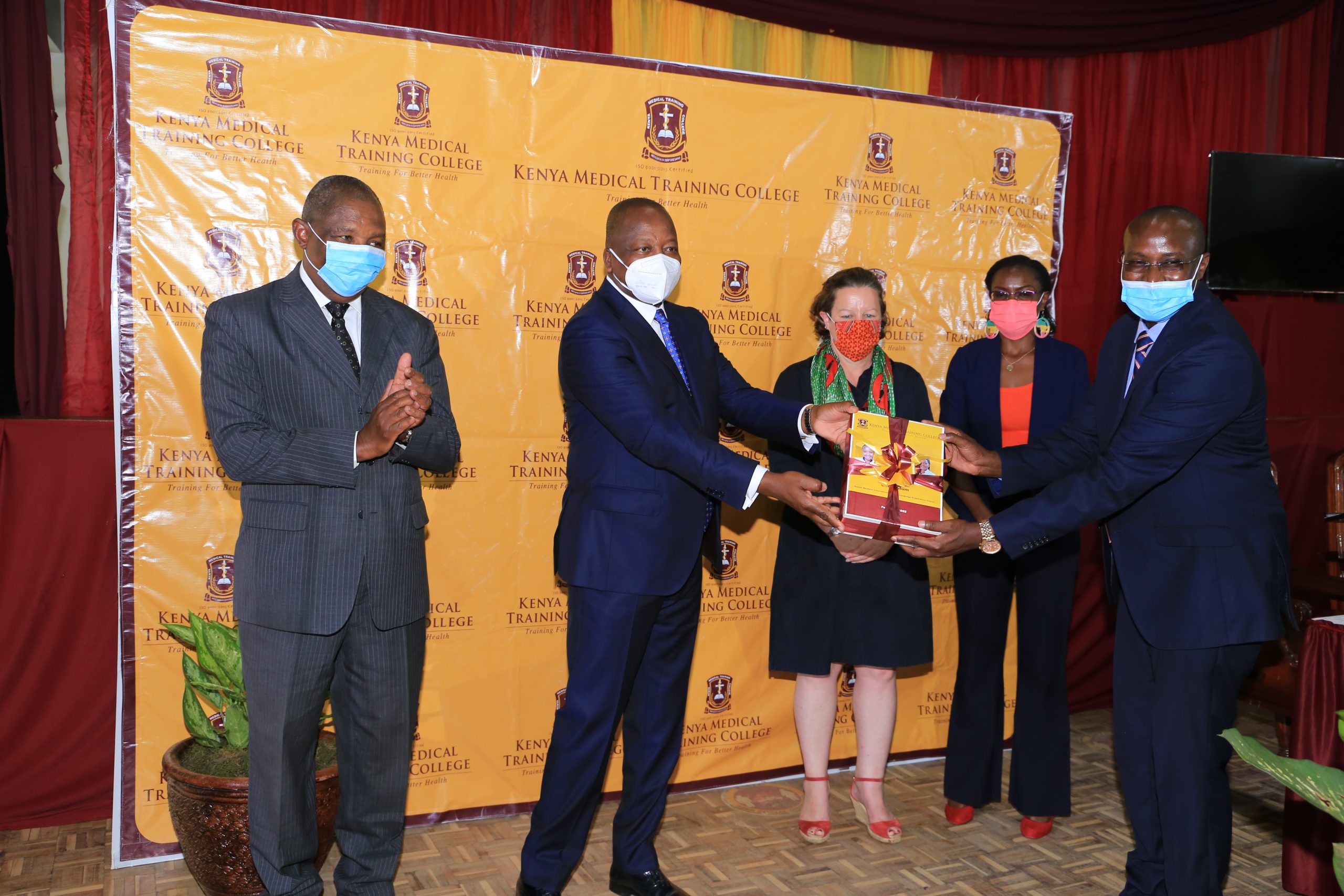 KMTC Launches English Language Training Programme for Migrating Health Workers
Health Cabinet Secretary Sen. Mutahi Kagwe has hailed Kenya Medical Training College (KMTC) as an institution that is forward-looking and responsive to the health training needs of the global market.
The CS was speaking on Tuesday (February 1, 2022) when he officially launched the English Language Training Programme at the College to prepare health workers migrating to other countries.
"This is the first time the Government has undertaken a training of this kind to prepare the young men and women of this country to take up international employment opportunities," he said.
On July 29, 2021, the Governments of the Republic of Kenya and that of the United Kingdom of Great Britain and Northern Ireland (UK) signed a Bilateral Agreement for collaboration on the healthcare workforce, thus paving way for cooperation in the delivery of healthcare through the recruitment of healthcare professionals in Kenya for employment in the UK.
Sen. Kagwe reported that the Government will manage the bilateral agreement process to ensure healthcare professionals being sent to the UK are appreciated and recognized as expatriates who are contributing to the country's economic development.
KMTC Board Chairperson Amb. Zachary Muburi-Muita reported that the College graduates about 4,000 nurses annually and this is part of the largest pool of nurses that will be migrating to the UK.
He further noted that the College with its 71 campuses across the country is well placed to prepare the nurses for the English Language.
He urged the migrating health workers to take advantage of the programme to sharpen their skills and meet visa application requirements.
The KMTC Acting Chief Executive Officer Dr. Kelly Oluoch confirmed that the launch of KMTC as a training and examination centre for the programme is in line with the College's continuous mounting of short courses to enable practitioners to meet regular professional development and remain relevant in the health profession.
The College has also introduced the training to continuing students to sharpen their skills and build their confidence.
KMTC is a member of the inter-ministerial team implementing the Bilateral Agreement.
In attendance included Deputy British High Commissioner to Kenya Ms. Josephine Gauld; Nursing Council of Kenya Chairperson Dr. Eunice Ndirangu, and CEO Dr. Edna Tallam; KMTC Board Directors Dr. Martin Sirengo, Ms. Jeniffer Bosibori, Dr. Stephen Ochiel, and Mr. Fredrick Wamwaki.
Ends