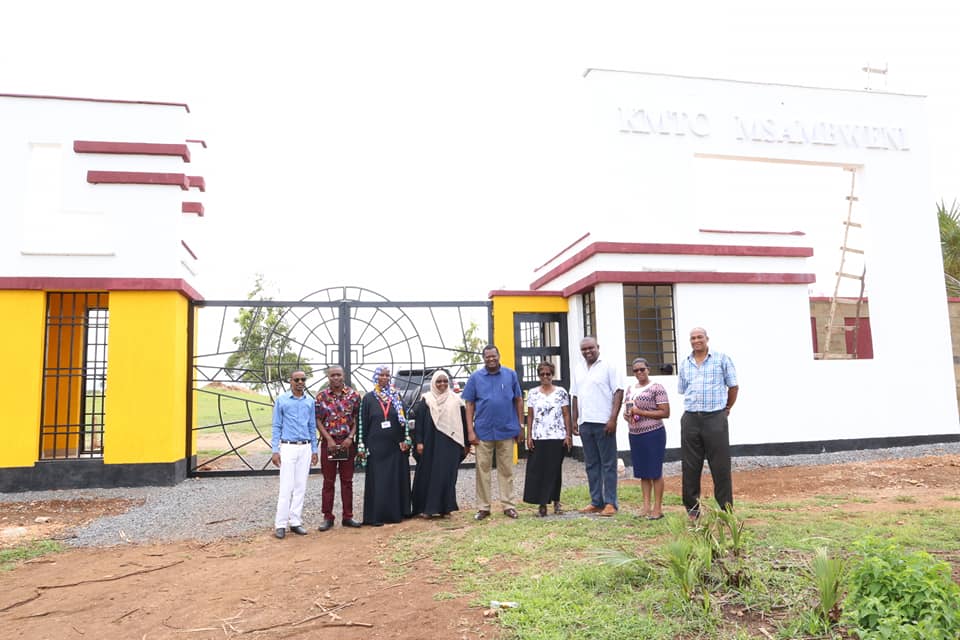 KMTC Msambweni Campus growth on course, says Prof. Kaloki.
Infrastructural development worth Kshs 75 Million currently going on at KMTC Msambweni Campus was on course.
This was observed by KMTC Board Chairman Prof. Philip Kaloki, MBS, and Board Director Mithamo Muchiri during a visit to the Campus today August 30th, 2019 to assess development projects.
A multi-purpose hall for organizing various College functions; a tuition block that will house more class rooms, offices and skills labs; a gate and perimeter wall to enhance security of students and property, are currently under construction.
Speaking during the visit, Prof. Kaloki commended the staff led by Principal Peninah Ndambuki for their good work in making KMTC Msambweni a formidable institution. The Chairman reported that H.E. President Uhuru Kenyatta was keen on ensuring growth of the Campus so that it can contribute to the achievement of Universal Health Coverage Goals for all Kenyans by 2022.
The ongoing infrastructural development follows an undertaking made by the President in 2018, when students from the Campus visited him in State House Mombasa. The President had undertaken to continue supporting needy students to train at KMTC in addition to supporting various infrastructural development projects including construction of a perimeter fence to enhance security in the Campus.
"The President is supporting needy students in the Campus through bursary support as a result of his passion for youth empowerment through education," Prof. Kaloki further noted.
The Chairman reiterated the Board's commitment to ensuring that all KMTC Campuses develop to world class standards. In addition, he said the Board had initiated training programmes geared towards capacity building and motivating staff to deliver in their various areas of work.
Principal Ndambuki noted that in the last few years, the Campus has experienced exponential growth as a result of support from the Board led by Chairman. From 300 students in 2013, the Campus now boasts of a student population of 850. The Campus offers courses in Certificate and Diploma in Health Records & Information Technology, and Diploma in Nursing as well as Clinical Medicine & Surgery.
The Principal noted that the expanded infrastructural capacity will enable mounting of new programmes and courses that will be tailored to address the health needs of the County and the country as a whole and as a result, the student population would grow further.
Speaking on behalf of staff, Senior Administrator in the Campus Mr. Darwesh thanked the Board for the increased staff salary as a result of the re-categorization of the College from PC 2 to PC 4. He promised that the staff in the Campus would continue to work hard to cement the place of KMTC Msambweni as an academic giant.