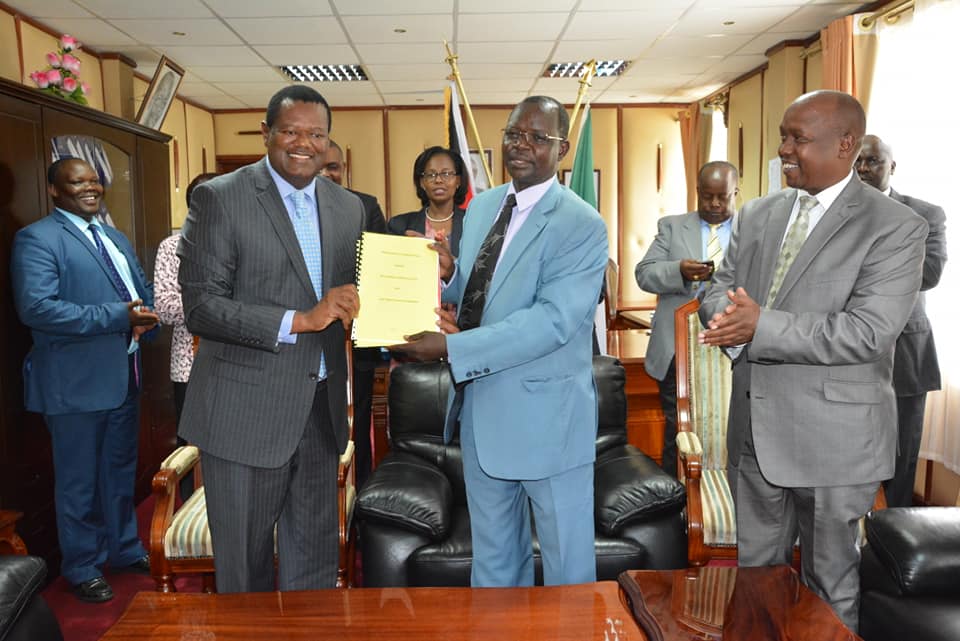 KMTC signs MoU with West Pokot County Government
KMTC signed a Memorandum of Understanding (MoU) with West Pokot County Government on Thursday, 23rd May, 2019, outlining modalities of engagement to enhance delivery of health services in the County.
The MoU was signed by the West Pokot Governor H.E John Lonyangapuo, KMTC Board Chairman Prof. Philip Kaloki and CEO Michael Kiptoo on behalf of the County and College respectively. Speaking during signing of the MoU in the Governor's County office, the two entities pledged to work together for the good of the people of West Pokot.
The KMTC Board Chairman Prof. Philip Kaloki said the College will ensure that Programmes offered at KMTC Kapenguria Campus are tailor made to meet the needs of the West Pokot County. "Kapenguria Campus will mount the Environmental Health Sciences Programme to train Public Health Officers for the County and a short course in Community Health Assistants, to train primary health workers who will be mandated with providing health services at the community level," the Chairman added.
Governor Lonyangapuo reiterated the commitment of his Government to support training at KMTC Kapenguria. As a result, he said, the County has allocated the Campus 20 acres of land and further undertaken to ensure students on rural practical experience have a place to stay in the County's health facilities.
Board Vice chairman Eng. David Muthoga, Board Director Mithamo Muchiri, Corporation Secretary Dr. Miriam Muthoka, Inter- governmental Relations Manager Dr. Leah Bii and Kapenguria Principal Mr. Ezekiel Kandagor witnessed the signing.
The KMTC team later proceeded to Kapenguria Campus where Prof. Kaloki officially opened a newly constructed multi-purpose hall. The hall, built at a cost of Kshs 4 million, is part of infrastructural development efforts by the KMTC Board and Management.