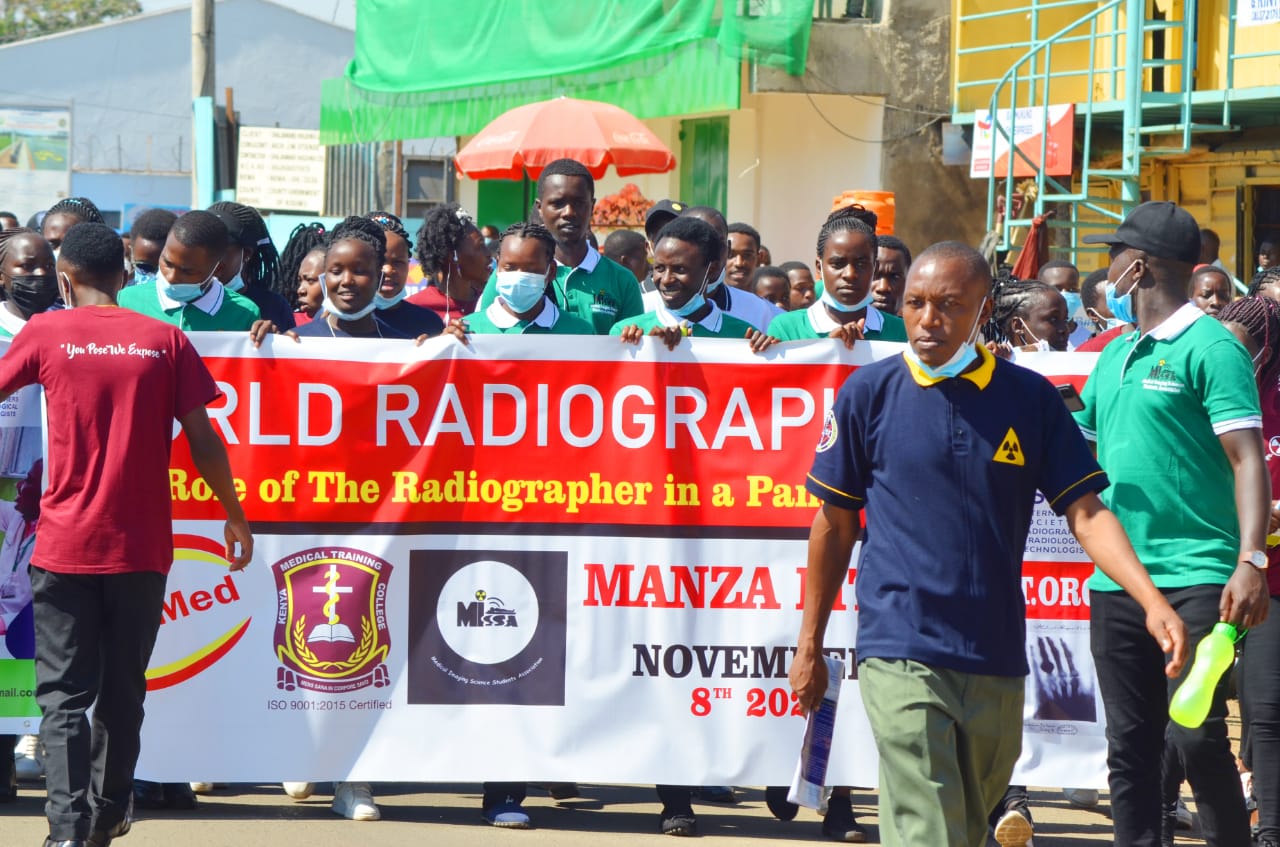 KMTC takes part in World Radiography Day Celebrations
KMTC staff and students, from the department of Radiography and Imaging, joined their counterparts from all over the world in celebrating the World Radiography Day observed on 8th November annually.
The event, held at KMTC Kisumu brought together Lecturers and Students from the eight Campuses training radiographers.
Speaking during the event, Ag. Chief Executive Officer Dr. Kelly Oluoch commended the students for their presentations and reassured them that Management is committed to supporting their holistic training to prepare them for the job market.
Dr. Kelly noted the critical role radiographers play in the provision of health services and more so in the fight against the Coronavirus. "Diagnostic Radiographers have become an instrumental part of the process in determining if a patient has COVID-19, and how they are progressing and recovering from it," he said.
The Ag. CEO further took advantage of the event to encourage the students citing his career journey as an example of how far focus, discipline and determination can get one.
Society of Radiography in Kenya (SORK) Vice President Mr. George Owiti reported that the professional body would organize a Radiographers Scientific Conference to harness the skills and innovation of students towards enhancing the quality of radiographers being released into the job market.
Nairobi Campus Head of Radiography and Imaging department Ms. Victoria Koi, represented by her deputy Mr. Augustine Ichelai, pledged her support for events that expose students to new information in the industry. She noted that it was thanks to efforts by Manza Campus head of Radiography and Imaging and current SORK treasurer, Ms. Vivian Akinyi that the Celebrations had become part of the department's annual activities.
On her part, KMTC Kisumu Principal Ms. Margaret Odidi thanked participants for attending the event saying the Campus was honored to host this year's celebrations. She observed that the event, which brings together Radiography and Imaging lecturers and students together provides an opportunity for networking.
Present during the event were Deputy Registrar Curriculum Dr. Solomon Kilaha and Mombasa Campus Principal Dr. Marsellah Ogendo among other invited guests.
SORK officials, representatives from Jaramogi Oginga Odinga Referral Hospital, Kisumu Referral Hospital and partners from the private sector.