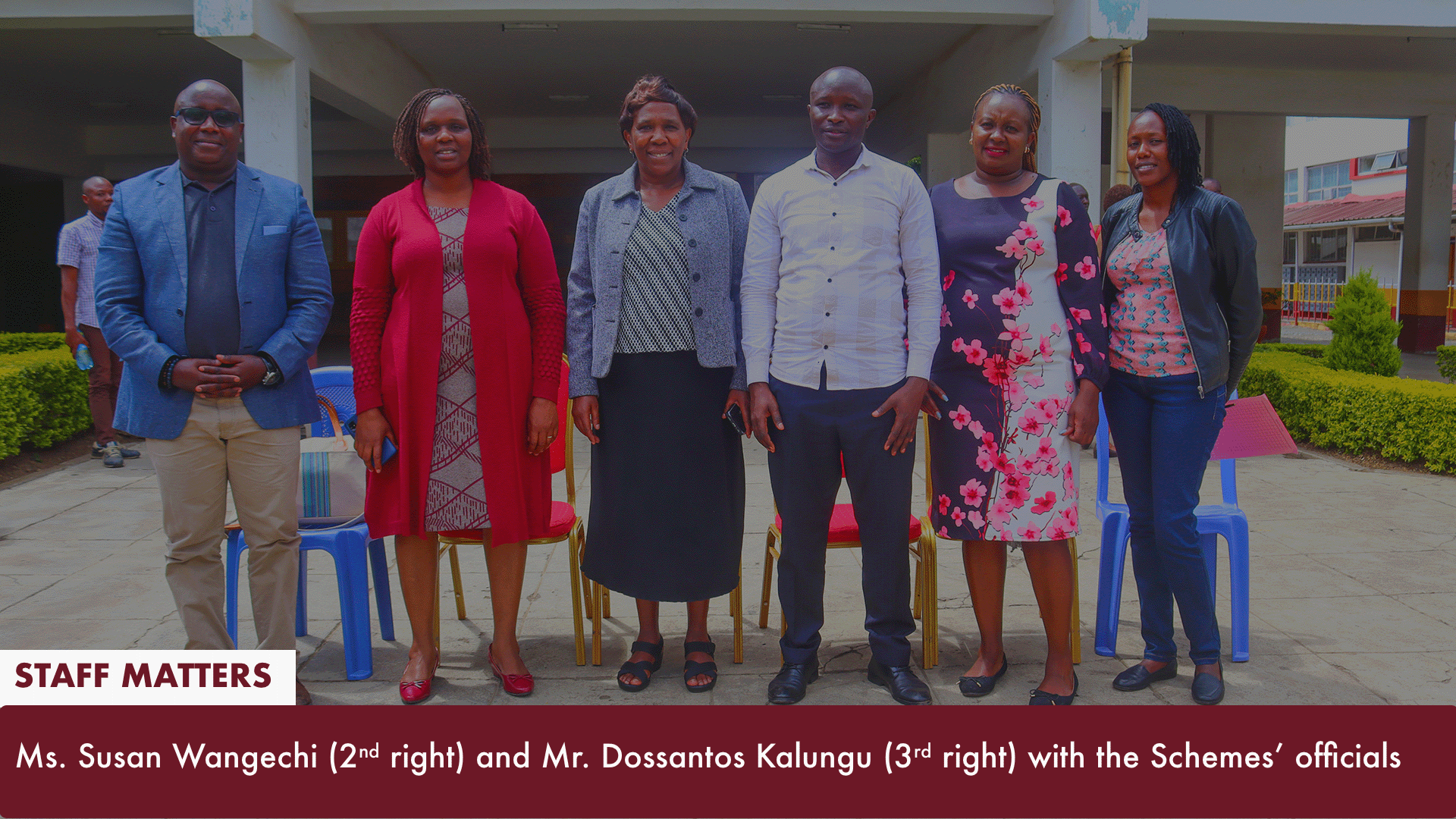 New Members Elected to Represent Staff in the Retirement Benefit Scheme
KMTC staff have elected two members for appointment by the Board to represent them in the College Staff Retirement Benefit and Staff Pension schemes, respectively.
This follows the expiry of the first term for Mr. Dossantos Kalungu, representing staff in the Defined Contribution Scheme (DCS) and second term for Mr. Hillary Rotich, representing staff in the Defined Benefits Scheme (DBS).
Resulting from the election held on Wednesday 7th December, 2022 in Nakuru, Ms. Susan Kabugi from the KMTC Headquarters and Mr. Dossantos Kalungu from KMTC Mbooni Campus have been elected by delegates to represent staff in the DBS and DCS respectively.
Following announcement of the winners, the two could not hide their excitement as they pledged to bring their collective talents to the scheme to support in its further growth and development.
Board Trustee Dr. Leah Bii commended the 76 delegates who represented staff in the exercise for electing a woman and enabling the scheme meet the two thirds gender representation. "We look forward to harnessing their energy and new ideas to take the scheme even further," she said.
Trust Secretary and acting Human Resource Manager Ms. Lilian Kemboi congratulated the two winners while pledging her support as they undertake their new roles.
On his part, Minet's Mr. Robert Rotich informed Ms. Kabugi, who will be beginning her first term, that she would be undergoing induction training to familiarize her with the scheme's operations, after which she would be expected to join one of the sub-committees to support the scheme's mandate.
The College runs two staff pension schemes, the DBS and the DCS. In the DCS scheme member' and employer' contributions are both invested on behalf of each scheme member and the proceeds used to buy a pension and/or other benefits at retirement. The retirement benefits for each member depend on how much money has been saved up by the time of the member's retirement date.
On the other hand, in the DBS a fixed pre-established benefits for employees at retirement is paid out. Benefits are often related to the final salary and/or years of service of the employee.