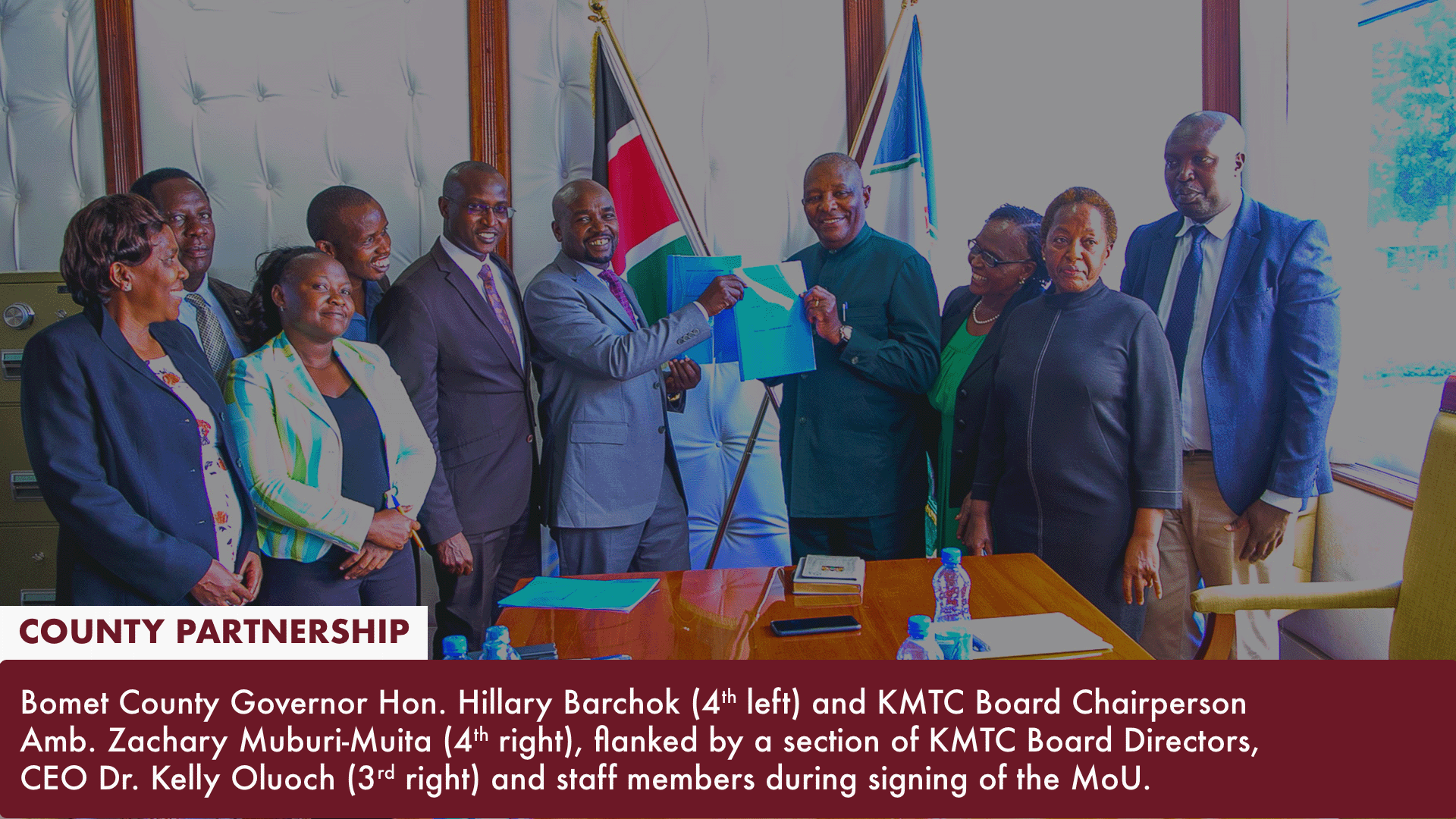 KMTC signs MoU with Bomet County
KMTC has signed a Memorandum of Understanding (MoU) with Bomet County Government, outlining modalities of engagement between the two institutions to enhance health services delivery in the County.
Speaking during the signing that took place on Monday December 5, 2022 at the Governor's office, the KMTC Board Chairperson Amb. Zachary Muita-Muburi said the College will ensure that programmes offered at KMTC Bomet Campus are tailor-made to meet the needs of the County. "This sets the pace for escalating our mission to work together for the betterment of KMTC and the people of Bomet'' the Chairperson added.
Bomet Governor Prof. Hillary Barchok reiterated the commitment of his Government to support training at KMTC Bomet. Towards this, he said, the County has started construction of a 200-bed capacity Hospital to create more space for the Campus in the current building.
The Board Chairperson was accompanied by CEO Dr. Kelly Oluoch during the event.
Board Directors Ms. Susan Mucheru and Dr. Naomi Kathure, Ag. Corporation Secretary Ms. Virginia Nzioka, Inter- governmental Relations Manager Dr. Leah Bii, Deputy Registrar Quality Assurance Ms. Lucy Kuria and Bomet Ag. Principal Mr. Elijah Kinoti witnessed the signing.
KMTC Bomet was started in 2013 and is one of the 72 College campuses spread across the country. In its 91st Graduation ceremony held on December 2, 2022, the College graduated some 15,915 health professionals. KMTC plays an important role in propelling the country towards the attainment of specific health-related targets through training middle level health workforce.