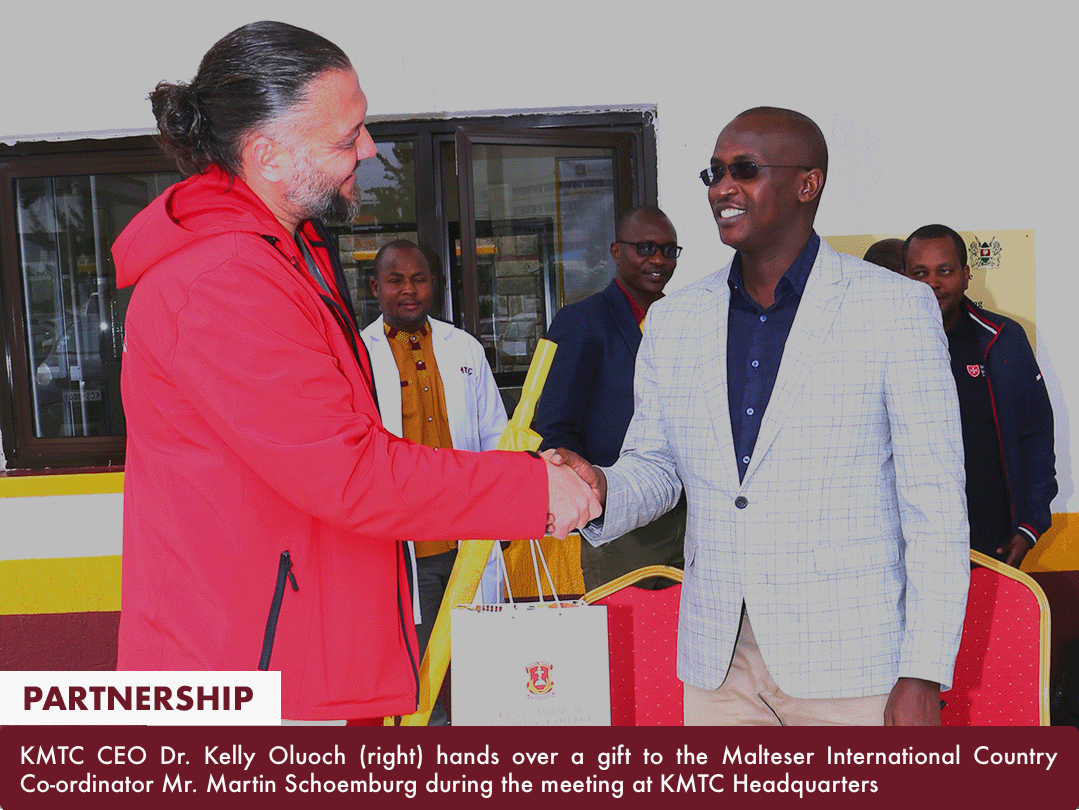 Partnership to enhance training in Emergency Medical Services
KMTC Chief Executive Officer Dr. Kelly Oluoch July 28th, 2022, held a meeting with a delegation from Malteser International led by Country Coordinator Mr. Martin Schoemburg, to discuss potential collaboration in training of Emergency Medical Services (EMS).
The discussions centered on areas of EMS: curriculum development and advancement; equipping of clinical placement facilities; upgrading of simulation laboratories to incorporate EMS components; capacity building for staff; continuous medical training, among others.
KMTC offers training of Emergency Medical Technicians (EMTs) at Certificate (started in September 2022) and Diploma (starting September 2023) levels. EMTs provide rapid in-field treatment and transport to higher medical providers. They work in conjunction with paramedics, nurses, clinical officers, physicians, and other members of the healthcare team. They are trained to offer emergency medical care which is the necessary immediate care to be administered to prevent worsening of the situation or death.
Speaking during the meeting, Dr. Oluoch reported that thanks to the 96 years of experience in training of health courses, the College has the requisite infrastructure, human resources, wide reach, and the community network necessary for enhancing the training in EMS.
"The College has been training its students to equip them necessary competencies to respond to emergencies, and skills to keep the patient alive from the scene of emergency to the hands of medical care" Dr. Oluoch said, adding, "this partnership will definitely enhance these efforts".
On his part, Mr. Schoemburg said Malteser International and KMTC share a common goal in basic and advanced life support, and the partnership will "contribute to decreased direct and premature mortality, due to preventable medical emergencies by an accessible and improved pre-clinical emergency care system".
Moving forward, the teams from the two organizations will develop modalities of working together to ensure Kenyans access quality healthcare and specifically emergency medical services.
Kenya has a strong need for an elaborate prehospital emergency care. The high prevalence of acute medical events, natural and man-made disasters, and mass casualty incidents has created an increasingly large demand for a reliable, integrated, and safe EMS system.
In attendance during the meeting were Malteser International Finance Manager Mr. Victor Miako, Project Officer Mr. Robert Parpula, and Partnerships Officer Ms. Florence Mwangi, KMTC Corporate Communication Manager Ms. Marcellah Onsomu, Resource Mobilization Officer Mr. Kamau Maina, Nairobi Campus Principal Mr. Joseph Ahomo and Head of health Services Dr. Kennedy Rateng among others.
Ends…