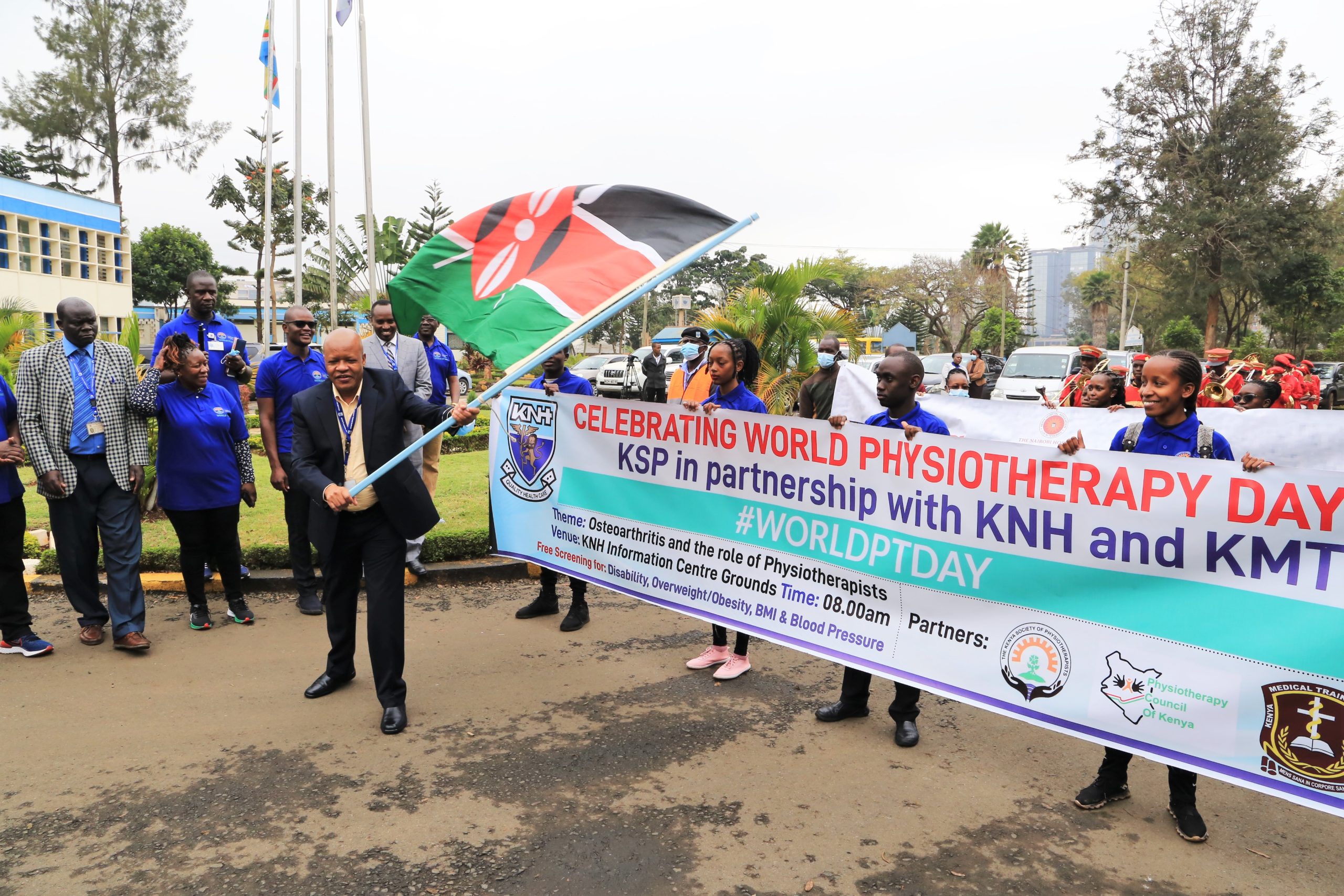 College takes part in World Physiotherapy Day Celebrations
The Kenya Medical Training College (KMTC) joined the rest of the world in commemorating World Physiotherapy Day.
Speaking while officially opening the forum at the Nairobi Campus, the KMTC CEO Dr. Kelly Oluoch said the day marks the unity and solidarity of the global physiotherapy community. "Indeed, KMTC recognizes the important role played by Physiotherapists in facilitating the recovery of patients and the management of non-communicable diseases, of which Osteoarthritis falls in that category," he said.
In line with this year's theme of "Osteoarthritis and the role of physiotherapists," the CEO said the majority of the population globally suffers from Osteoarthritis, a condition that causes arthritis.
The College is a major contributor to the wheels of healthcare service delivery in the country and contributes to a large extent to the growth of the physiotherapy profession.
Over the last 95 years, KMTC has registered great successes in training and mentoring Physiotherapists on specialized courses namely; Orthopaedic Manual Therapy, Neurorehabilitation Neurology in Physiotherapy, and Higher Diploma in Women Health and Pelvic Rehabilitation.
The training prepares highly skilled health practitioners while prioritizing patient care, research, promotive, preventive, rehabilitative, and palliative healthcare.
The CEO thanked partners who have worked closely with KMTC in providing quality training and mentorship for students. He singled out the partnership with the Jackson Clinics since 2012, which has resulted in the mounting of more specialized physiotherapy courses and advanced training.
Dr. Oluoch called upon the Kenya Society of Physiotherapy and Physiotherapy Council of Kenya to be vigilant in ensuring that technological advancement, professional conduct, and practices are upheld for better and effective service delivery.
The College joined hands with various partners to offer free screening services and participate in walk, to promote awareness about the critical contribution physiotherapists are making to the optimal performance of the health care system.
Among the participants in this year's celebration were representatives from the Kenyatta National Hospital, the Physiotherapy Council of Kenya, the Society of Physiotherapists, Mbagathi Hospital, Amref International University, Karen Hospital, KMTC Staff, and students, among others.
World Physiotherapy Day is observed on the 8th of September, annually.
Ends….