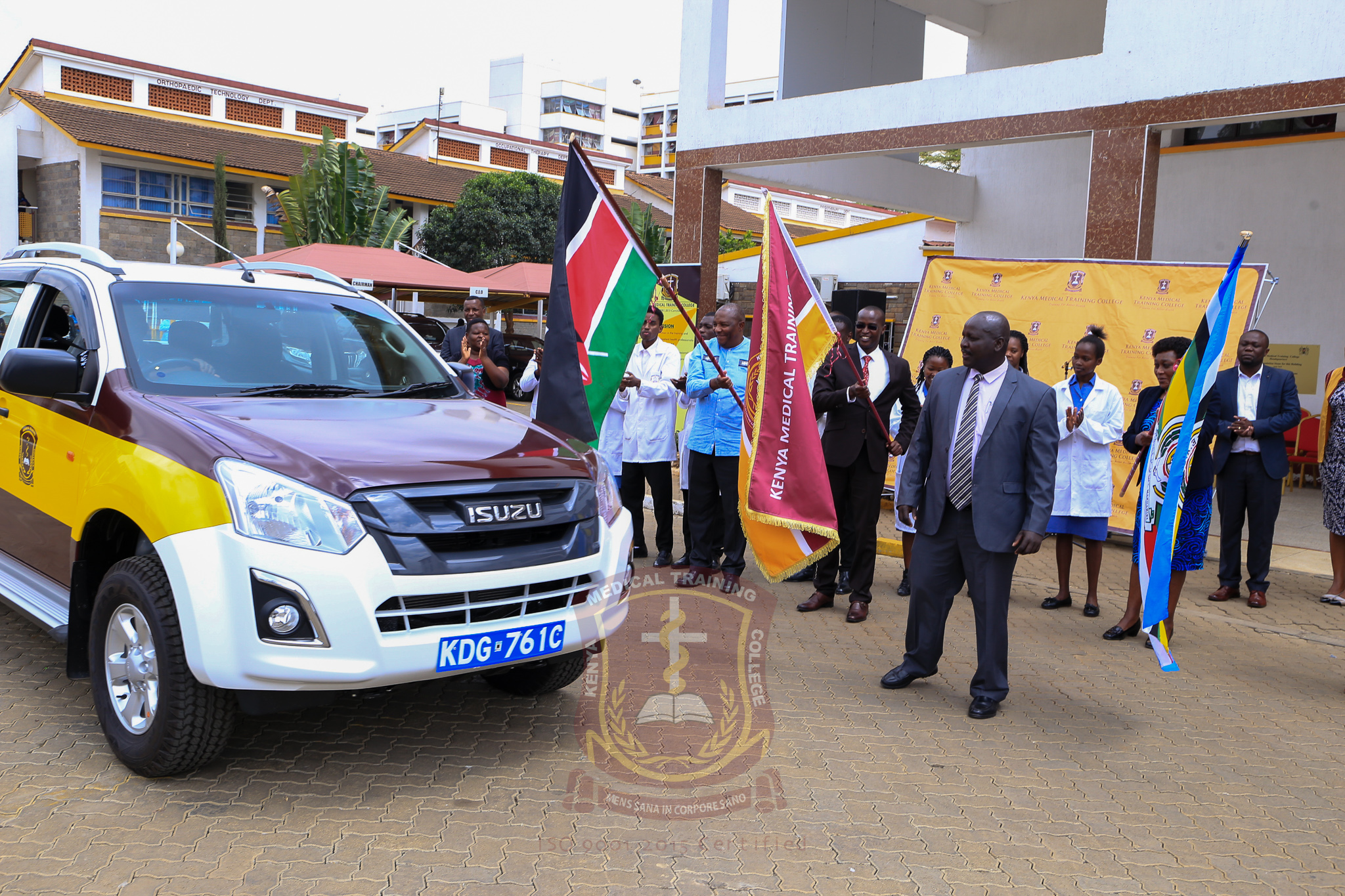 Health training gets a boost as five double cabin pickups are commissioned
The KMTC Board Chairperson Amb. Zachary Muburi-Muita has today commissioned five double cabin pickups to enhance access to clinical areas by students and their supervisors.
The Chairperson was flanked by the Chief Executive Officer Dr. Kelly Oluoch.
The vehicles for Kilifi, Msambweni, Bomet, Kapenguria, and Kapkatet Campuses are an addition to the wide fleet of vehicles owned by the College.
While flagging off the vehicles, Amb. Muita said they are a big boost to both the College and health services in the country.
"The vehicles will ensure students access their clinical training sites with ease, where they augment health service delivery to the local communities in the course of their training," he said.
Adding: "the vehicles will enhance the quality of training in the Campuses by providing means of transport for Lecturers to follow up on students in their clinical practice and rural experience areas."
Medical training is skills-oriented and as such, students spend 70% of their learning practices in health facilities, thus the need for an efficient transport system.
The Chairperson called upon Management and staff to use the resources prudently to attain par excellence service delivery in line with the College's Mission of producing competent professionals for the attainment of the Government's Universal Health Coverage agenda.
On his part, Dr. Oluoch said the College has strengthened its transport system, having a total of 138 vehicles (which include, buses, vans, and double cabins).
"Plans are in the final stages to have 11 more vehicles (six buses and five double cabins) delivered to the College for use by various Campuses," Dr. Oluoch said. "We are committed to continually equipping Campuses with the necessary resources to promote the high-quality training that the College is known for," he added.
Dr. Oluoch observed that the College has put in place policies to ensure the safety of its staff, students as well as other road users in addition to disability mainstreaming measures to ensure Persons with Disability access service delivery with ease.
Dr. Oluoch thanked the Board of Directors under the leadership of Chairperson Amb. Muita for the continued support, enabling the College to succeed in its day-to-day operations.
Also in attendance were the Ag. Deputy Director Finance, Planning & Administration Dr. Kenneth Riany, Academic Registrar Dr. Lucy Waweru, among other staff members from the headquarters.
Others were Principals; Ezekiel Kendagor (Kapenguria), Abel Onchiri (Kapkatet), Salim Omambia (Bomet), Alex Deche (Kilifi) Priscilla Jilani (Msambweni), and Deputy Principal Academics Felistus Muinde (Nairobi).
Ends…