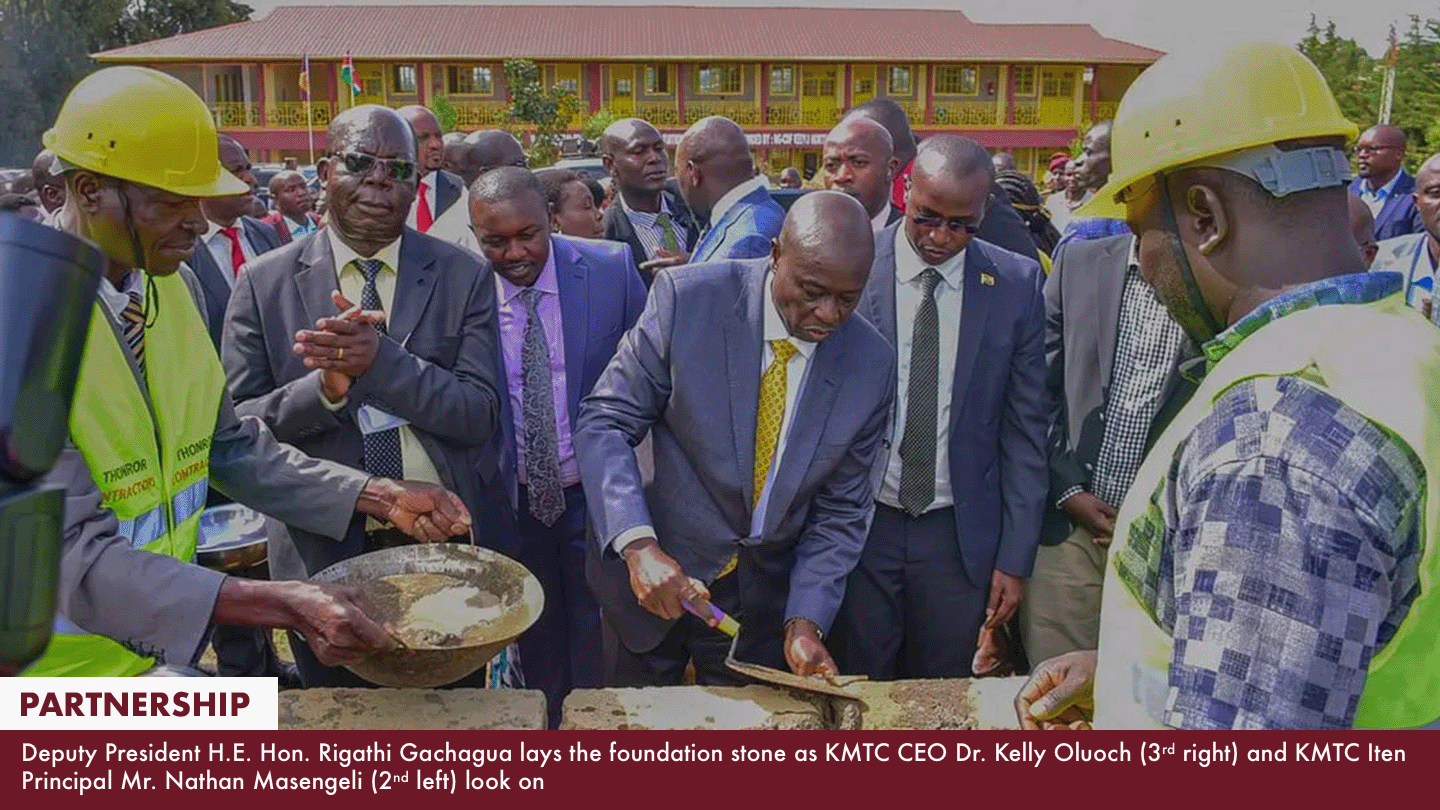 DP Rigathi Gachagua Inaugurates New Classrooms at KMTC Iten
Deputy President H.E. Rigathi Gachagua visited Kenya Medical Training College (KMTC) Iten on Friday, June 23, 2023, to commission two newly constructed classrooms and lay a foundation stone for a new tuition block.
These developments have been made possible through the funding by the Keiyo North National Government Constituency Development Fund (NG-CDF), under the leadership of Member of Parliament Hon. Adams Kipsanai at a cost of Kshs 3 million and a further Kshs 25 million for the construction of a tuition block.
During the commissioning ceremony, DP Gachagua commended Hon. Kipsanai for his effective utilization of resources, emphasizing the positive impact these classrooms will have on the students. He stated, "The government is committed to improving the health and well-being of its citizens and we are cognizant that it begins here, with the training of the necessary human resources."
He further praised Hon. Kipsanai, saying, "We are appreciative of the MP's efforts in providing the funds for these classrooms."
The Deputy President also pledged his support for the completion of the tuition block, stating, "In line with this, I pledge to support the construction of the tuition block, containing six classrooms, to its completion."
Hon. Kipsanai expressed his gratitude for the government's support in strengthening the health systems to better serve the people of Kenya. He stated, "We are happy to see KMTC Iten become a Centre of Excellence in the training of healthcare professionals in the county, and that is why we have embarked on this infrastructural development journey to actualize this."
He also highlighted the ongoing projects at KMTC Iten, mentioning, "In addition to the tuition block under construction with support from the NG-CDF, KMTC is also in the process of constructing five classrooms funded through internally-generated revenue and has purchased a bus to enhance teaching and learning."
KMTC CEO Dr. Kelly Oluoch, conveyed the College's gratitude for the government's support and expressed their commitment to producing competent graduates. He said, "We are grateful for the government's support and pledge to continue churning competent graduates to support the actualization of the Universal Health Coverage Agenda."
The commissioning of the classrooms and the laying of the foundation stone for the new tuition block at KMTC Iten mark significant progress in expanding educational facilities and improving the training of healthcare professionals. With the government's commitment and the diligent efforts of stakeholders, KMTC Iten is set to become a leading institution in producing highly skilled healthcare workers in the region.
Ends…