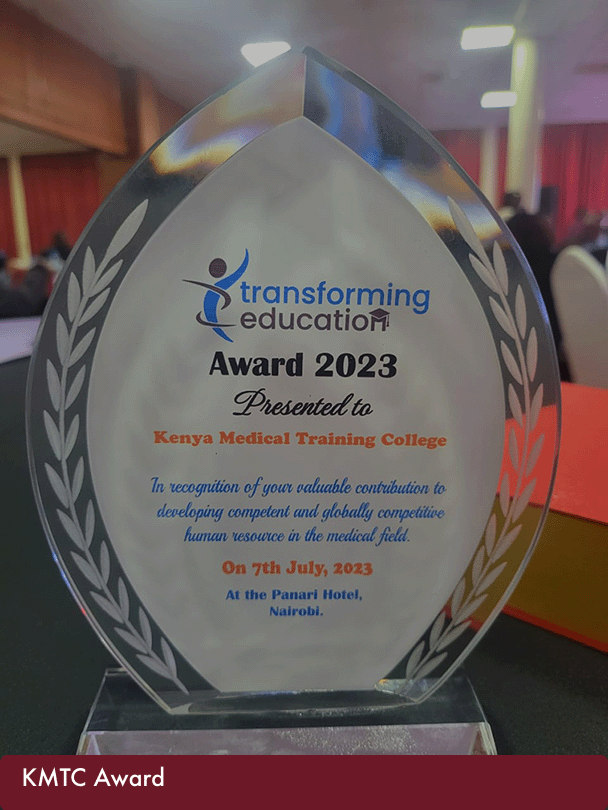 KMTC Awarded for Advancing the Medical Field
The Kenya Medical Training College (KMTC) has been honored with a prestigious Transform Education Award 2023 for its exceptional contribution to the development of globally competitive healthcare professionals.
The award was presented to KMTC CEO Dr. Kelly Oluoch during the Transforming Education Summit and Award ceremony, themed "Role of Stakeholders in Transforming Education for the Future," held on July 7, 2023, in Nairobi.
The Transform Education Award recognizes KMTC's unwavering commitment to advancing the Universal Health Coverage (UHC) Agenda and its dedication to nurturing outstanding medical professionals. This recognition reflects the College's significant efforts in transforming the educational landscape of the medical field in Kenya.
Expressing gratitude Dr. Oluoch reaffirmed the College's ongoing mission to produce well-trained and competent healthcare professionals. In response to receiving the Award, Dr. Oluoch stated, "We are immensely grateful for this esteemed recognition bestowed upon us. At KMTC, we are deeply committed to shaping the future of healthcare by developing globally competitive human resources. This award reinforces our resolve to contribute meaningfully to the UHC Agenda."
Dr. Oluoch further acknowledged the collective efforts of KMTC's fraternity, whose dedication and hard work contributed to the College's success. "This award belongs to our entire KMTC family. It is a testament to the relentless pursuit of excellence exhibited by our faculty, staff, and students. Together, we are transforming the medical field and making a positive impact on healthcare in Kenya," Dr. Oluoch added.
Established in 1927, KMTC has been at the forefront of providing quality medical education in Kenya for several decades. The College has consistently produced skilled healthcare professionals who play a crucial role in delivering healthcare services across the country. This transformative recognition reaffirms KMTC's position as a leading institution in shaping the future of medical education and healthcare in Kenya.
Ends…