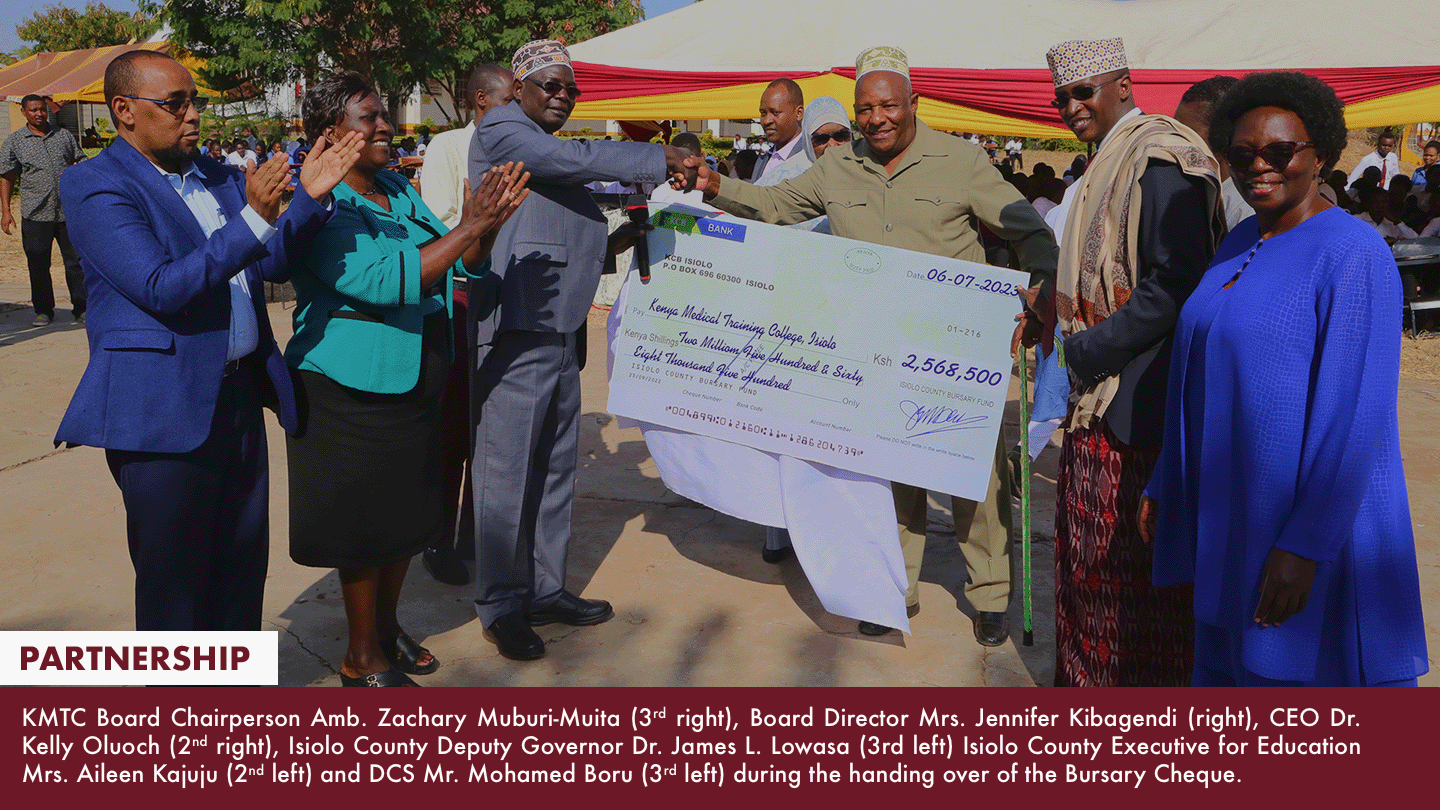 KMTC receives Ksh 2.5 million in bursary fund from Isiolo County Government
The Kenya Medical Training College (KMTC) Isiolo Campus on Thursday (July 6, 2023) received Ksh 2.5 million in bursary funds to empower and facilitate student education.
In recent years, the County has continued to support the Campus in infrastructural development, student bursaries, alongside other initiatives.
Speaking when he paid a courtesy call on Isiolo Governor Abdi Hassan Guyo, KMTC Board Chairperson Amb. Zachary Muburi-Muita welcomed the bursary allocation noting that it will go a long way in facilitating the training of needy students at Isiolo Campus.
"The College has continued to grow at an impressive rate and we therefore request the County to continue seconding staff as well as allocate more resources to support the growing student numbers and courses," he said.
He thanked the County for facilitating the development of the Campus, adding that the College will continue to allocate resources to finance additional projects.
The Deputy Governor Dr. James Lowasa who led the discussions on behalf of the Governor pledged to continue supporting the College in its endeavors.
Dr. Lowasa commissioned a 280-capacity hostel to enhance the provision of accommodation services to KMTC Isiolo students.
He called upon the College to continue offering need based courses to support the strengthening of primary healthcare which is the cornerstone for the realization of the Governments Universal Health Coverage agenda.
Amb. Muita was accompanied by CEO, Dr. Kelly Oluoch, Board Directors, Dr. Stephen Ochiel, and Ms. Jennifer Kibagendi. Others were the Deputy Director Academic Dr. Nyawira Mwangi, Principal Isiolo Campus Ms. Agnes Linus, and Inter-Governmental Relations Coordinator Dr. Leah Bii.
Ends…