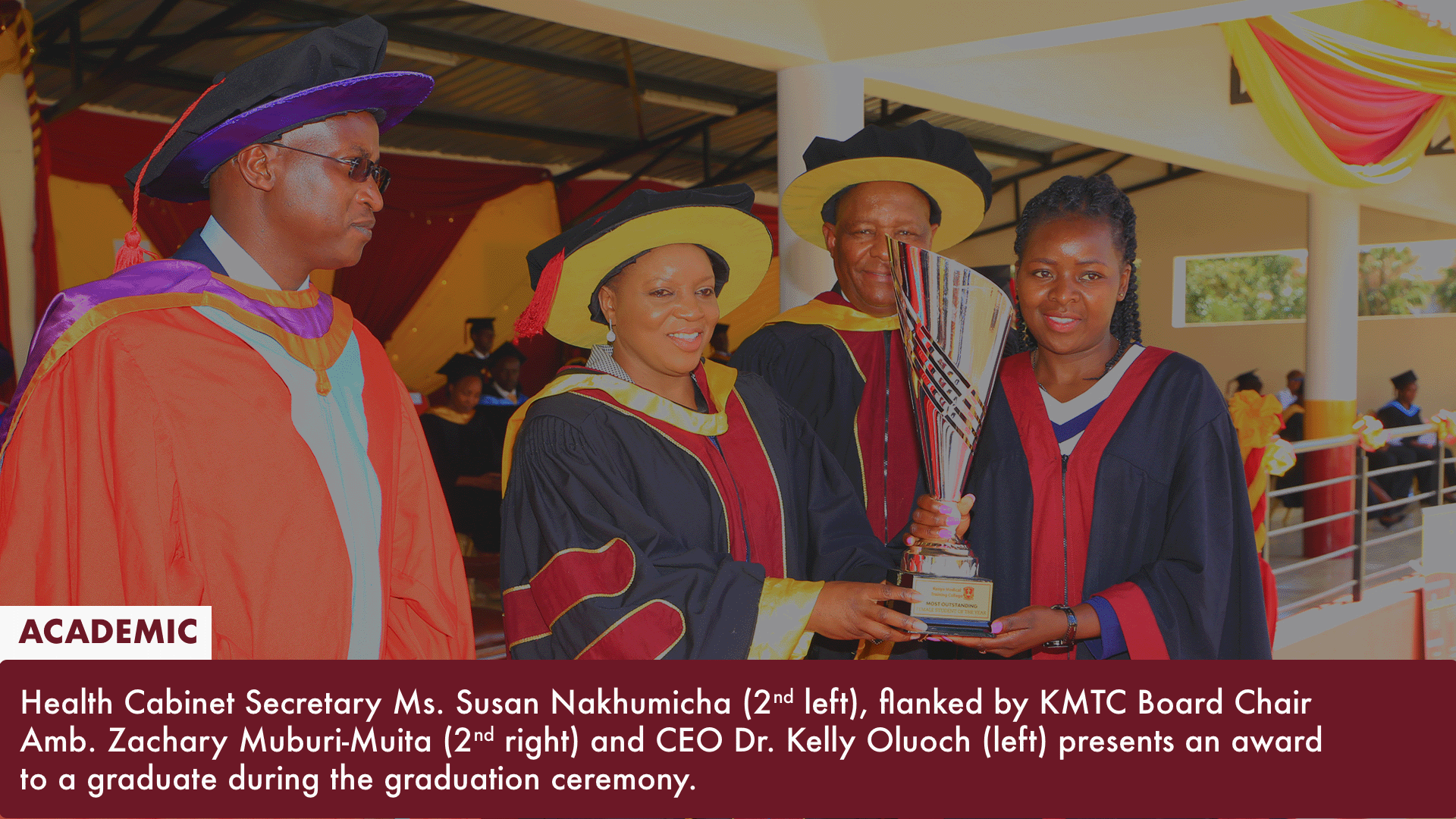 KMTC Holds 91st Graduation Ceremony, Releases 15,915 Medics into the Health Sector
The Kenya Medical Training College (KMTC) during its 91st Graduation Ceremony held on December 2, 2022 released 15,915 fresh graduates ready to meet the health workforce gaps. Of this number, 692 were awarded Higher Diplomas, 8,235 Diplomas, and 6,988 Certificates.
The event presided over by Ministry of Health Cabinet Secretary Ms. Susan Nakhumicha Wafula, saw the highest-ever number of graduates in the history of the College given the power to put their training to work.
Giving her remarks, the CS observed that KMTC has been making great strides in the field of health care service delivery, "Anyone making contact with a health provider in this country and beyond, will most probably be attended by a KMTC graduate. I am proud to be a KMTC Alumna," she said.
Referring to the Bilateral agreement between Kenya and the United Kingdom (UK) on exportation of health professionals to work in the UK, the CS reported that the country's health workforce and especially nurses are now migrating to work in other countries and the Ministry is spearheading efforts to create more international job opportunities for other cadres as well. "KMTC thus has to be intentional in creating training opportunities responsive to both local and global market needs," she stated.
Ms. Wafula further outlined that the Ministry of Health is harmonizing and implementing several policy reforms and programs in the health sector. These include the Universal Health Coverage (UHC) and Health Insurance subsidy programs for the poor and vulnerable households. "The revision of the UHC benefit package will allow Kenyans covered under NHIF to enjoy more services," she added.
In addition, this year's graduation comes against the backdrop of the recent equation of the College's Higher National Diploma Qualifications to University Bachelor's Degrees.
Referencing this milestone, KMTC Board Chairperson Amb. Zachary Muburi-Muita reported that "Our quest to continually supply a quality global health workforce recently received a boost after certification by the Kenya National Qualification Authority (KNQA)."
Amb. Muita affirmed that the equation could not have come at a better time as the KMTC graduates are ever linked to training and career opportunities both in and outside the country.
On the same note, the Chairperson stated that "to demonstrate that the College is indeed the preferred health training institution nationally, on a yearly basis, we receive over 30,000 applications and continue to train students admitted to universities but who chose to pursue KMTC programs, even as we seek to expand our capacity to train as well for other regional countries." Adding: "During clinical placement and community engagement, the over 50,000 students in session work closely with the rural and urban populations, therefore, improving the health outcomes of the country."
To increase access to training opportunities for all, Amb. Muita announced that the College had joined hands with the Higher Education and Loans Board (HELB) to launch an education fund for KMTC students. "So far, the National Treasury has approved a figure of Kshs 680 million funding towards this scheme, of which, Kshs 226.6 million has already been disbursed as part of the allocation," he added.
The College's Chief Executive Officer Dr. Kelly Oluoch conveyed that the decision to hold a virtual graduation, with minimal physical participation, had been informed by the threat posed by the Ebola outbreak and reports of a renewed upsurge in Covid-19 cases, and subsequently for the safety and dignity of KMTC students, graduates, their families, staff, and the general public.
He confirmed that "in line with this year's theme of "Sustainable and Comprehensive Training towards a Responsive Health System", the Graduands are well trained, examined, equipped with a diversity of skills and competencies to serve in any part of the world."
In addition, Dr. Oluoch disclosed that "in order to take care of our increasing and aging population, strengthen Primary Health Care and how communities can access health services, the College has collaborated with partners to offer training for Specialized Cadres, Community Health Volunteers, Community Health Assistants, Community Health Extension Workers, Life Support as well as Emergency Medical Technicians."
Having been started in 1927 with four students at the Kenya School of Administration, the College has a current student population of 54,000 students undertaking 93 courses in 72 KMTC Campuses spread out in 44 out of the 47 Counties. The College currently produces 85 percent of middle-level healthcare workers in the country and will be celebrating its 95th anniversary in 2023.