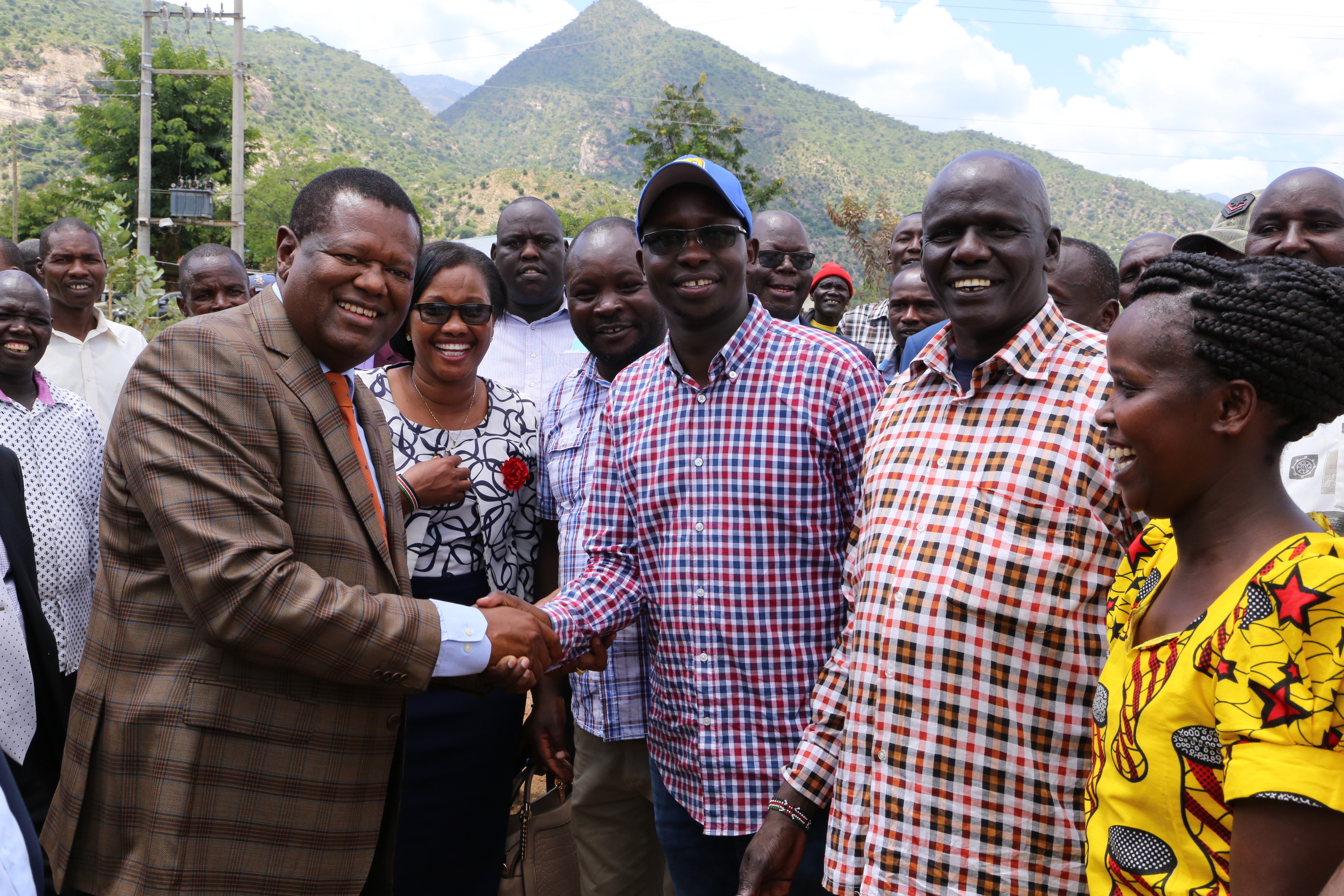 Marakwet East residents to benefit from a new KMTC Campus.
The KMTC Board on 19th February, 2020 traversed about 390 kms to Tot, Marakwet East Sub-County located in Elgeyo Marakwet County on a mission to ensure that the people of Marakwet East also have an opportunity to train as health professionals.
The Board was received by Marakwet East Member of Parliament Hon. David Bowen accompanied by Elgeyo Marakwet Deputy Governor Mr. Wisely Rotich, area Member of the County Assembly (MCA) Mr. John Lochaa among other local leaders.
Hon. Bowen said his Constituency Development Fund (CDF) had set aside Kshs. 50 Million for establishment of the Campus. He said Governor Tolgos had allocated another Kshs. 50 Million while area MCA John Lochaa will add another Kshs. 20 Million to support construction of the proposed Campus.
As a show of support for the Campus that is set to revolutionise growth of the area, the community donated 100 acres of land while an additional 20 acres located next to the Tot Sub-County Hospital will also be used for establishment of the proposed KMTC Kerio Valley Campus.
Additionally, Elgeyo Marakwet Deputy Governor Hon. Wisely Rotich said the County Government would invest massively in the Tot Sub-County District Hospital to elevate it to the level of a training hospital.
Board Chairman Prof. Philip Kaloki, EBS, noted that health is a critical pillar to development and a right for every human being. As a result, he said, the Board takes seriously the need to establish Campuses that provide training opportunities for qualified Kenyans who will then go back to their communities and provide health care all the way to the grassroots, making Universal Health Coverage a reality.
"Our mandate as KMTC is to support the Government's endeavour of providing equitable health care that is affordable, high quality, culturally and linguistically appropriate in a timely manner, by providing training opportunities for competent health professionals," Prof. Kaloki affirmed.
Hon. Bowen thanked the Board for visiting the area and he undertook to move with haste to ensure that the Campus was set up in a timely manner for the benefit of the area residents as well as other Kenyans. "This Campus will come with a host of other benefits such as opening up the area and shining a spotlight on all Marakwet East has to offer," he added
Endo Ward Member of County Assembly Mr. John Lochaa expressed the excitement of the community at the realisation of a long held dream. He thanked the Board for partnering with the local leaders to set up the Campus that would be a source of empowerment for his people.
The visit follows a meeting in the Chairman's office on 16th January, 2020 attended by Hon. Bowen where he requested the Board to visit the area and assess the suitability of setting up the proposed KMTC Kerio Valley Campus.
Board Directors Mr. Mithamo Muchiri and Mr. Frederick Wamwaki accompanied the Chairman during the visit.
Others present were KMTC Western regional coordinator Mr. David Yator, Principals Dr. Jeremiah Ngomo (Kakamega), Mr. Benson Munyoli (Eldoret), Mr. Nathan Masengeli (Iten), local Chiefs and area.